Back in the day when Z was little, I was desperately looking for a kids friendly café in Geneva. A place where I could meet my mom-friends, have a cake, while my daughter plays. I had no luck. No such place existed.
Thanks to Jennifer Barben-Mirisola things have changed! We now have Bibi Café! Jennifer is a mom of 2, who instead of searching and whining like I have, sat down to work and founded a place we all need so much.
Her project, Bibi Café, will hopefully force other restaurants and cafes to think about parents too.
Bibi Café is the first 100% kids and parents friendly café that opened its doors in the Quartier des Vergers in Meyrin. No matter where in Geneva you live, I beg you to continue reading.
Bibi Café will be easily reachable with public transport (buses, trams), and with a car. There is a huge parking, with the exit in front of the café.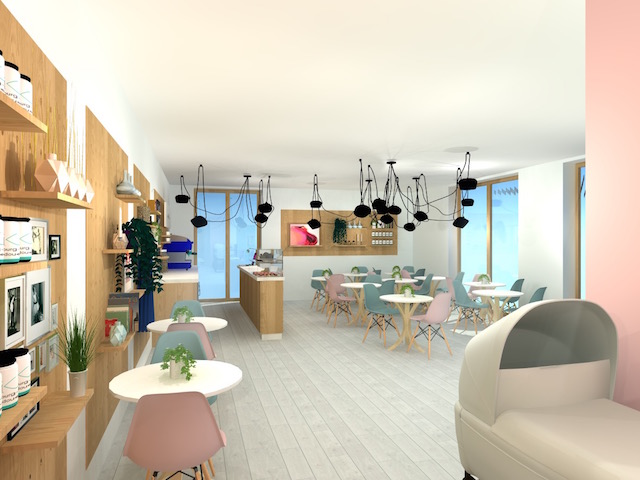 That's not all! It's also placed very close do the beautiful botanical garden in Meyrin, the public swimming pool, and ice skating rink. So you'll now be able to plan a whole day in nature, with sport activities, while being sure there is a place close by that will welcome you wholeheartedly with good coffee, lunch, or snack.
It is a new place where you'll be able to host your child's birthday no matter their age – sweet, right? Bibi Café also organises kids activities, parents meetings, pop up store events, and more.
It is where I hosted an event to celebrate publishing ABC Geneva city guide FOR KIDS.
Take your kids to Bibi Cafe, don't worry about them disturbing anyone. Here kids can scream, cry, be themselves. The lunches and brunches at Bibi are splendid, very often accompanied by kids activities by Recrecrea, Bricks 4 Kidz or other organizations. And with the spring coming, I can't wait for Bibi to open their outside space!
Hope to see you soon in Bibi Cafe!