How long are you planning to stay in Geneva with kids this summer? No matter if it's a week or 8, the Staycation Guide by Parentville is coming to save the day again!
Since its first edition in 2017, it has been one of the best-received summer helpers for both local families, and those who come here for holidays. Questions about the new editions start arriving in early May!
What is the Staycation Guide
Staycation Guide is simply a downloadable PDF in which each page is devoted to one day of 57 summer days (Geneva summer school holidays to be precise). On each page, you will find: an outing idea (mostly in the city, but it can also be a day trip in the region). This idea is accompanied by all useful info, including an interactive map. At the bottom of the page, you'll find alternative propositions and a link to this exact day's events on Parentville's events calendar.
It all started in 2017, and despite the common myth of Geneva being boring, each year enough of new places are found and introduced to the guide, so that they can genuinely be called new editions. This is how version 2018 came to be. The 2019 edition has even more new stuff than the previous one!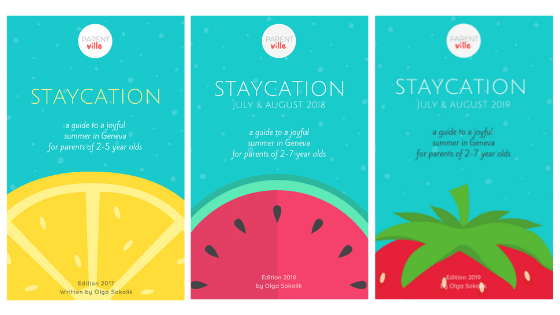 How to use the Staycation Guide
There are two ways to use the Guide. Some families follow the propositions day by day (as an author of the guide I have to salute them as I would never have the energy to do everything from the guide in one summer). Others use it mostly as an inspiration and will visit the place proposed on July 5th, on August 17th. In case a place recommended in the guide is open only on specific dates, it is marked in the guide – no worries of going somewhere to face the closed doors.
The only part of the guide valid only for the date it is placed in is the link to Parentville's calendar – the page on August 4th will send you to August 4th events in the calendar.
The guide starts with a brief "how to use" it part, that explains three icons used in the guide. Easy-peasy.
Also, everything you think should be a link – is linked, so you can always easily access more information about the outing.
Where to get the Staycation Guide
The Guide is available here, to everyone for a modest price of 5 CHF.
Only those who subscribed to Parentville's newsletter till July 1st, received the guide for free. Even if you missed that chance, subscribe now anyway, to never miss it again!
I will be very grateful to everyone who receives or purchases the Guide for not forwarding it to friends, but rather directing them to this website. I hope you'll understand (loyalty, copyrights, and all that in play).
TESTIMONIALS
Here's what has been told about the previous editions of the Staycation Guide (2017, 2018):
Thank you very much for all these research you are doing and gently sharing for the kiddos!
I love to test new places and try to talk about it a little bit in a far less efficient way you are! Just wanted to say that it is really appreciated! Congrats!
THIS IS AMAZING!!!!!! I would like to nominate you for the Nobel Peace Prize because of the anxiety you have resolved in my household for this summer. This is clearly a contribution towards world peace. Congratulations!!!
Your Staycation guide is so lovely! Have been reading and writing down some of the tips this morning. Such a great work!