How long are you planning to stay in Geneva with kids this summer? No matter if it's one week or eight, the Staycation Guide by Parentville is coming to save the day again!
Since its first edition in 2017, it has been one of the best-received summer helpers for both local families, and those who come here for holidays
What is the Staycation Guide
Staycation Guide is simply a downloadable PDF. It is filled with ideas for summer outings, day trips, adventure parcs, hikes, and (new in 2020) home activities!
It has interactive maps, links, and lots of practical information. It basically saves your time – Parentville does all the research for you, chooses the best places, and voila!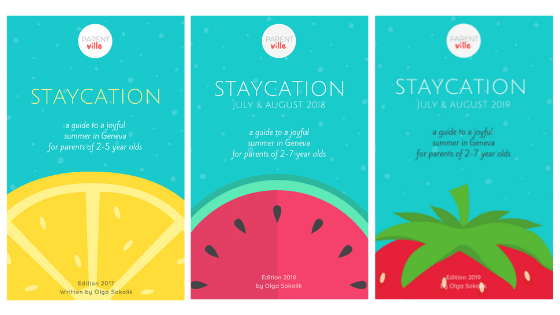 Get your Guide
Click on the button below and become the expert of family-friendly destinations in and around Geneva!
TESTIMONIALS
Here's what has been told about the previous editions of the Staycation Guide (2017, 2018):
Thank you very much for all these research you are doing and gently sharing for the kiddos!
I love to test new places and try to talk about it a little bit in a far less efficient way you are! Just wanted to say that it is really appreciated! Congrats!
THIS IS AMAZING!!!!!! I would like to nominate you for the Nobel Peace Prize because of the anxiety you have resolved in my household for this summer. This is clearly a contribution towards world peace. Congratulations!!!
Your Staycation guide is so lovely! Have been reading and writing down some of the tips this morning. Such a great work!