Sledging around Geneva – close and a bit further away, simple and a bit more crazy.
Winter is fully here. Not in the city thankfully (or sadly?) but if anyone misses the snow, it's just 30 minutes away! While most parents with kids aged 3+ will use winter free-time to ski in the Alps and Jura, there's so much more to winter than that.
Those of you who follow Parentville on Instagram, know that our favourite winter activity, and the most easy to organize in the city, is ice skating.
Between simple ice skating in the city, and a bit more expensive and complicated to organize skiing, there's also sledging and snowman building! So why not choosing one of the many sledging possibilities in France, or Switzerland?
Megeve – the Caboche sledging area
Around 1h from Geneva, it's one of the best and most posh ski resort in the French Alps. This means that even the sledging infrastructure is awesome! You only need to take snow clothes, and a helmet, no need to take your sledge, you can rent one right at the top of the mountain.
The first option: you simply go up with telecabine from the city, then go down a bit along the ski teaching and sledging slope, rent the sledge in front of the restaurant, and enjoy! It's quite fast, so better sit together with your kid (depending on their age). The perks: resto on spot, the tapis to climb back up, the views. While the older child has a skiing lesson, take the younger one sledging.
The 2nd option: Laluge. A longer sledging slope, that goes through a forest. A bit faster, not recommended for the youngest adepts. Read more about it here.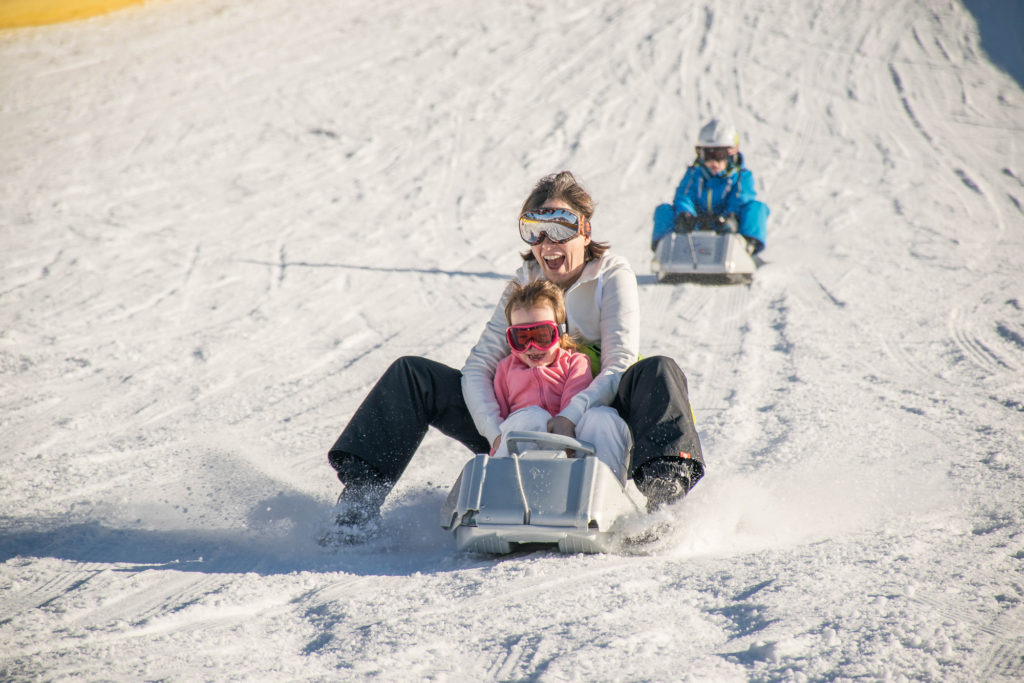 Salève
Salève is probably the easiest mountain to reach for sledging around Geneva, as the cable car is reachable by a TPG bus. It is true that Salève receives snow less frequently than Alps, and most popular places in Jura, but when it gets snow, it is a fantastic place to visit! There are many places where you can sledge safely on Salève, mostly close to the ski lifts (button lifts). You can find descents of all the angles to adjust the speed to the age of your child. You can also go for a little hike, taking the babies and toddlers in a sledge, our recommendation – from whenever you walk, walk up to the l'Observatoire for a cup of hot tea and cocoa!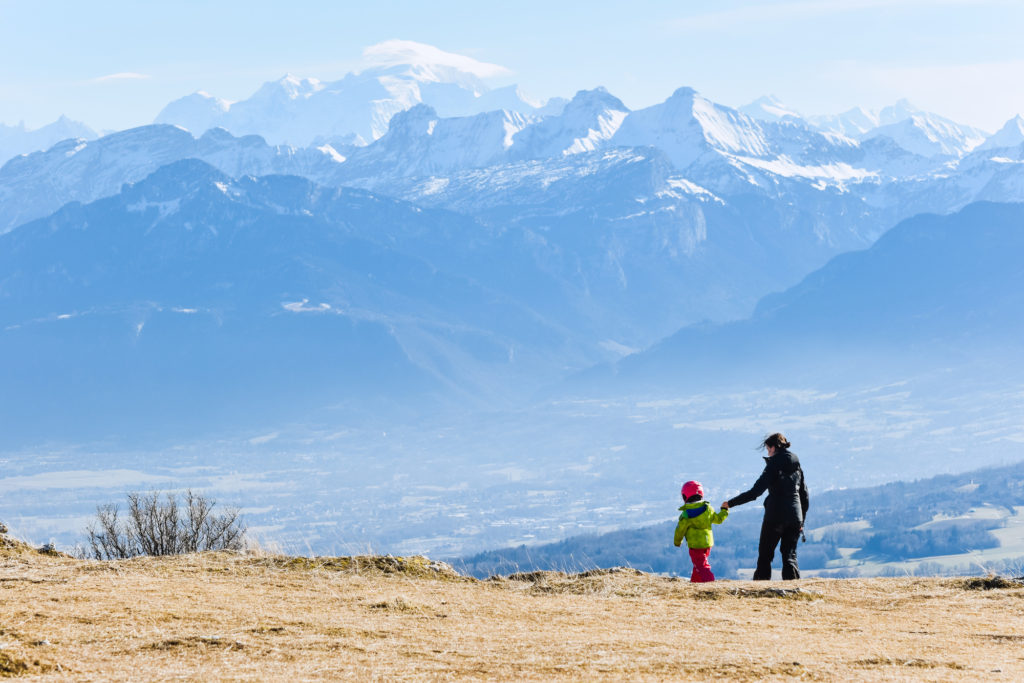 Saint Cergue and La Givrine
Around 60 mins away from Geneva, beautiful, with big sledging area opposite the train station ("La Givrine"), with many walking trails in the forest, beautiful views, and many buvettes serving hot meals and hot chocolate. It also is Parentville's favorite snow shoeing area!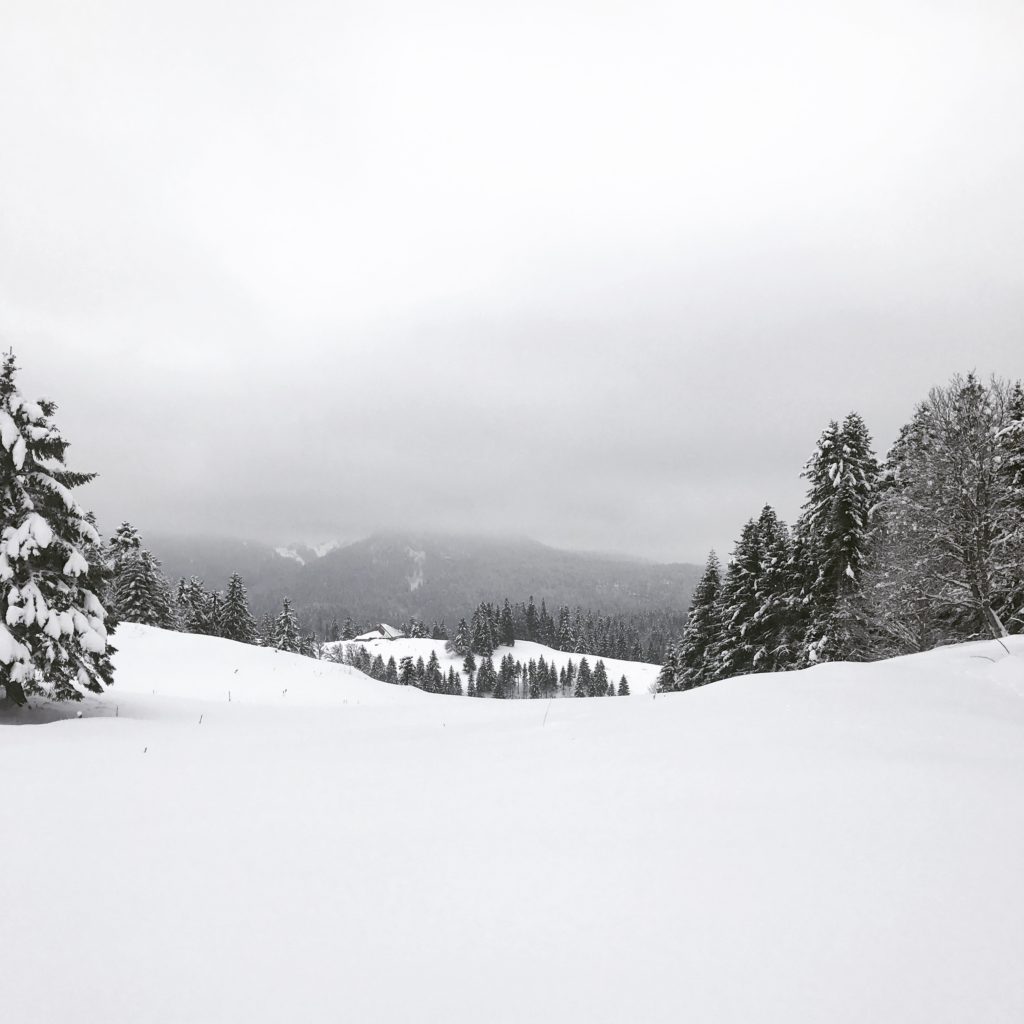 Combloux
Our absolute favourite, around 60 minutes from Geneva, in the French Alps. There are 3 reasons for our love for this place: a very good restaurant (Le Chalet D'Emilie with amazing burgers), 2 sledging zones (quite simple but absolutely enough for kids up to 7yo), and an outdoors soft playground in the snow (think outdoors baby/kids gym for free). The sledging zone at the level of the Chalet has an fabulous view on Mont Blanc – not to miss!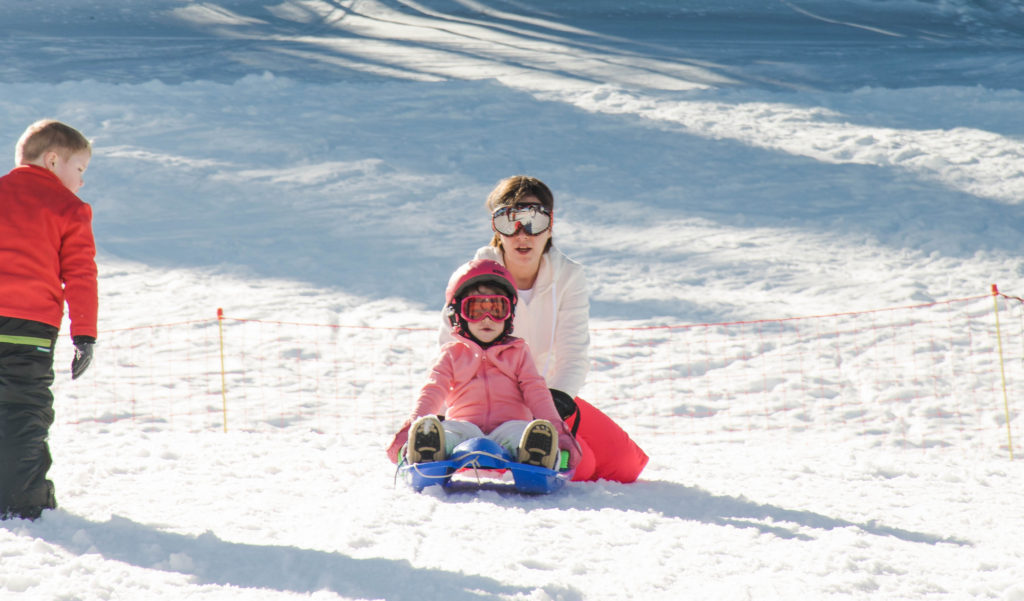 Leysin
Around 90 minutes drive from Geneva, soon to be tested by the Parentville team. A whole sledging park with slopes of different difficulties for different ages. You get a huge inflatable and enjoy the rides! It looks fantastic! For all the info and prices please head over to their website: Tobogganing Leysin.For the amazing pictures of this place please click over here.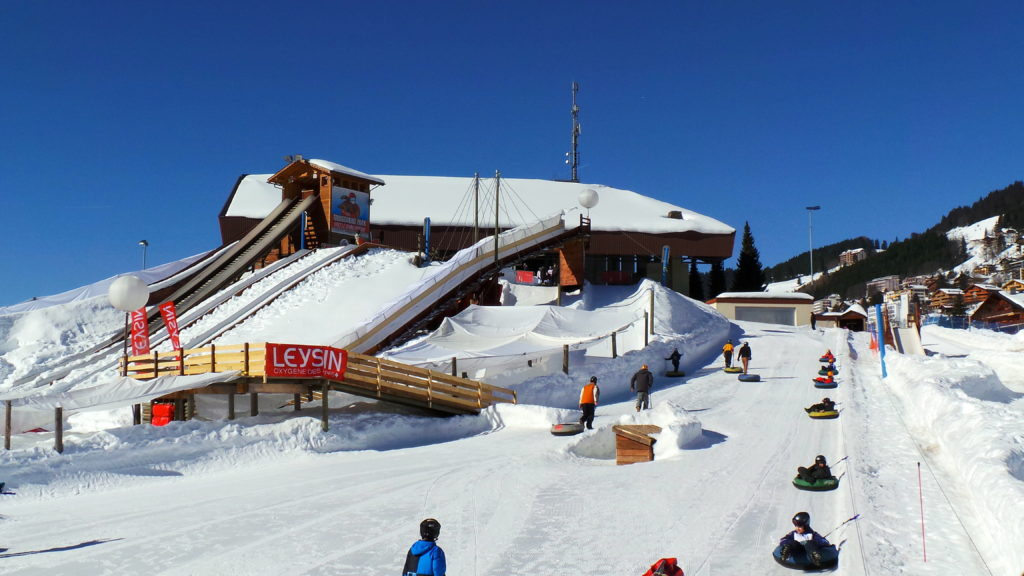 Les Diablerets
How about a sledging day on one 8km slope? You rent the old school, wooden sledge, take some food and drinks in your backpack, don't forget the helmets. Take your time to go down, pause for a picnic, even walk instead of riding on too steep parts of the trail, and then pause again to build a snowman!
Around 1h30/2h from Geneva, for a bit older kids (I'd say 4-5 years old at least). The craziest sledging trip idea on the list, and though it's a bit far it has to be on a "sledging around Geneva" list.
Basse Ruche
brought to you by the HUB Geneva
Small but perfectly formed. Really lovely restaurant / chalet at the bottom, car park right there. Small téléski lift and gentle slope for young beginners (check opening times) plus a fun sledging hill from the forest.
La Trélasse
brought to you by the HUB Geneva
Two beginners ski slopes and a slope with a fun lift for "air boards" – red, inflatable donuts you sit on and slide down on. Also a restaurant on site.
Piste de Luge du Marchairuz
brought to you by the HUB Geneva
In the Vallée de Joux, incredible views. Longest sledge route in the vallée – through a forest, with some steeper slopes. Set within a nordic/cross country ski area and racquettes route – Vallee de Joux Nordic Centre. At the top of Col du Marchairuz is Hotel-Restuarant du Marchairuz for a treat, warm-up and stunning scenery.
Col de la Faucille
brought to you by the HUB Geneva
Col de la Faucille has a dedicated sledge area to the right of the ski lift. Can get quite busy, but something to do for the young ones whilst older ones ski.
Sled Dogs
There's one other variation of sledging – the dog sled! A bit pricey, true, but it is an unforgettable experience. We found for you two places: one close to Saint Cergue, and another one in Megève (click on the city names to access more detailed info).