Tired of the cold nasty bise, grey skies, and winter jackets? There are places in and around Geneva where you can enjoy the warmth and forget about the nasty icy winds!
HOT POOLS:
Bains de Cressy – the swimming pool of the cantonal hospital (HUG). It's a nice indoor pool filled with warm water (34 degrees!) perfect for the little ones. They also have prenatal swimming activities (details here), and prenatal massage (link here), as well as swimming classes for babies (all about it here). There's a jacuzzi, saunas, hammams, and odorium (saunas and hammams are reserved for those aged 16+). The pool is also adapted to the needs of disabled. For the virtual tour of the pool click here. For opening hours click here, and for the prices click here. Reachable with TPG.
Bain Bleu – a bit more luxurious Hammam & Spa place just next to Geneve Plage. Children are welcomed until 6 pm, after that the space is restricted to adults only (details here). The water is warm, but if your kids don't fancy a bit of darkness, and needs water toys and slides, it's probably not the best place for them, though it's the one you can get to fastest with TPG (though surely it depends on where you live).
Aquaparc le Boveret. The closest Swiss Aquaparc to Geneva, around 1h30 away from Geneva. They have tons of attractions for little ones, the water temperature is 29 degrees. It's an amazing fun place with beautiful views over the Swiss Alps. Check out all the details here.
ANIMALS & NATURE
Vivarium in Meyrin. As the reptiles need warmth, the building is all warm and tropical. It's a real hidden gem with amazing animals! Easily accessible with tram no 14 and 18, as well with the bus no 57. Check all the details here (in French).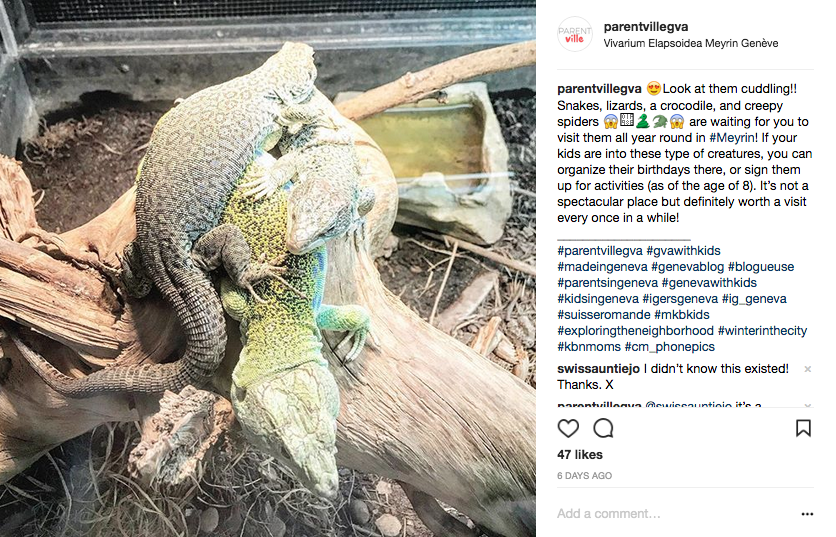 Jardin Botanique. One of the most wonderful parks in Geneva. When you get too cold you can quickly head over to the 3 greenhouses (2 of them host tropical plants, so they are absolutely warm). It makes for a great adventure: a walk in the park with tropical shelters every now and then, playground, and a hot chocolate in the park's restaurant. More about the greenhouses here.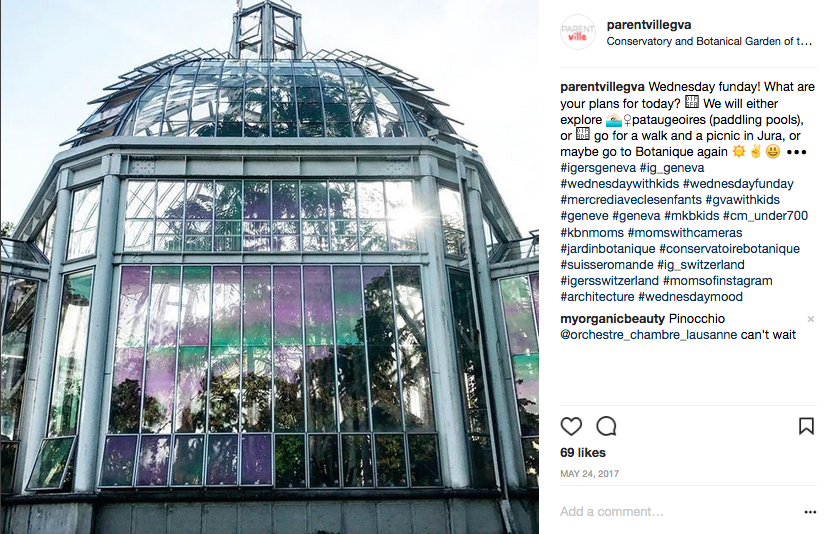 Tropiquarium de Servion. Around 1h drive from Geneva, in a picturesque Servion, there's a zoo, and next to that zoo, voilà, a Tropiquarium. It is a home to penguins, flamingos, Komodo dragon, crocodiles, giant tortoises, lizards, and more. You can either visit Tropiquarium only, or use it as a warm up place after a walk in the zoo! You'll find all the needed details upon clicking -> here.
Papiliorama. An amazing place filled with butterflies, bats, and tropical birds. Each group is placed in a separate dome, so no worries if you don't fancy a visit to the nocturnal kingdom of bats. Their hall imitates the night during the day, so the visitors can see the bats not sleeping but flying around. The part with butterflies is absolutely breathtaking thanks to the amount of colourful flowers, and of course, the incredible amount of butterflies flying all over the place. To top that there's an outdoors zoo. heck their schedules, as their kids activities are really fun (available in French and German). It's easily accessible by train (check out the link to special offers here). All the info is easy to find on their website (in English too!): link here.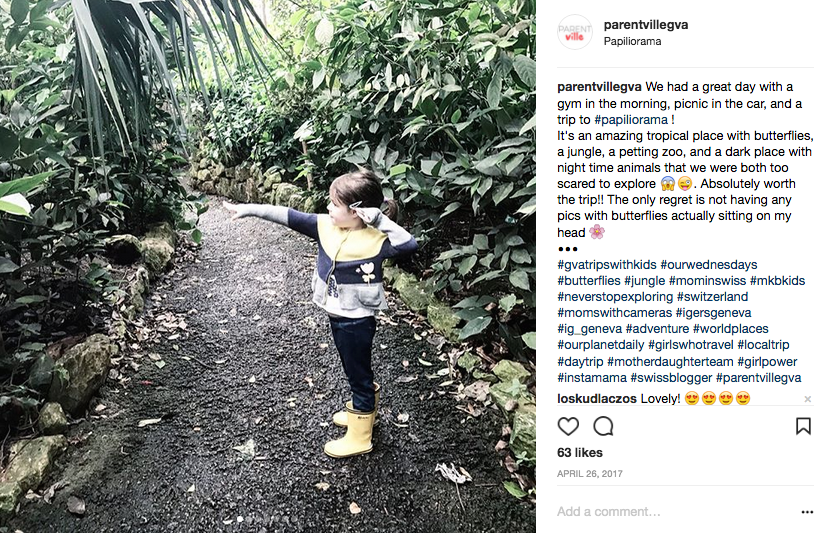 To be up to date with all fun places check out Instagram and follow:
@parentvillegva, #gvawithkids, and #gvatripswithkids