Holidays not far away from home? Hell, yeah! It's especially great with kids, and especially practical in the times of travel-uncertainty. Luckily, Geneva's location is a gem! Within 1h drive in every direction there are so many great holiday-destinations, one would need a lifetime to visit them all.
We have been offered a weekend stay in Emerald Stay apartment in Morzine – an alpine town in France, we have never visited before. How was it? Fab!
COSY LUX
The buildings are brand new, designed in a modern way, with luxury touch and a cosy feel. Located 5 mins walk from the centre of Morzine, it makes it a great base for visiting the region.
But that's not all. On the site there's a swimming pool and a spa. Many apartments are equipped with a hot tub on the terrace. It means even if the weather sucks, the holiday feel is guaranteed. During the day just hop in the Jacuzzi with kids for some splash time – they will be thrilled to be in a swimming pool outside when it's cold but without feeling the cold. In the evening, when kids are asleep, the hot tub is a perfect place for a glass of wine with a magnificent view on the sky full of stars!
The fully equipped kitchen, the most comfortable mattresses on the planet, and Nuxe cosmetics in the bathroom were the things we loved! The high-speed wi-fi was a feature we also appreciated big time, as it let one of us work remotely for one day (they have a special offer for remote working, in which they equip the apartment with all the things needed to work comfortably!).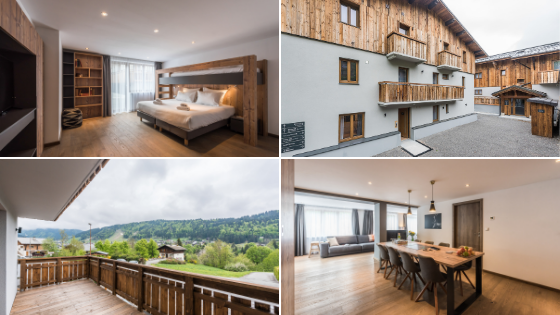 MORZINE
There's lot to do and see all around in Morzine for families with small and big children, during every season of the year!
In Morzine itself, a stroll through the lovely town is a must, where a bridge over the gorge, with accrobranche structure undernetah is a fun site for kids! Not far from it, there's also a great accrobranche parc (for kids as young as 2yo!).
If you're up for an easy walk, Parc des Dereches is your place (strollers-friendly)! A lovely stroll, a playground, nature, and the mountains – fresh air guaranteed (and probably a relaxing nap afterwards, too).
There is also a lovely horse riding place, where kids can have a pony ride.
In winter, there's of course lots of skiing, sledging, snow-shoing, and snowman building opportunities!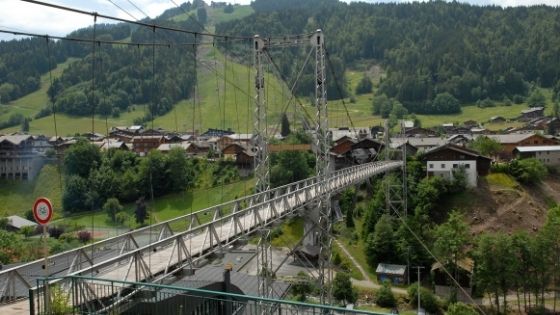 AROUND MORZINE
A bit further from Morzine, don't miss the gorgeous Lac de Montriond – the third big lake in the region (after Lac Leman and Lac d'Annesy). For a stroll around the lake and all-terrain pram or a baby carrier would be best. It's a 3km walk to go around the lake. There are restaurants on both ends of the lake, mini golf on the end closer to Morzine. If 3km are not enough, another 4km walk (to and back) takes families for a lovely hike to the Cascade d'Ardent.
There are hikes of every possible level of difficulties all around. The best place to find the most suitable route for your family is by contacting the Morzine-Avoriaz tourist office, or the Emerald Stay staff.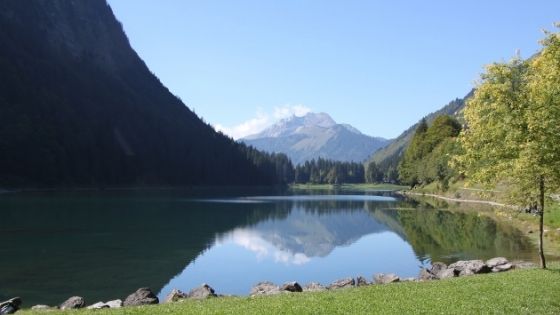 TROPICAL FEELING
An activity especially appreciated by families is a splash time in Aquariaz – a tropical aquaparc. The water is 30 degrees warm, with tropical plants all around, creating a feeling of a holiday far far away. There are pools for every level, for every age, with water jets and slides. For the adrenaline seekers – the slide winder is a must! It's so good, I know people who take a day trip just to spend there a few hours.
A SPECIAL FAMILY-GUIDE
Obviously, one weekend was not enough to discover everything the region has to offer. The tourism Office prepared a pdf that lists all family-friendly activities for all year round. You can check it out here.
AFTER
After the whole day of fun, Emerald Stay apartments are a perfect chill-out base. Fully equipped kitchen, super cosy sofas, board games on the shelf, and those bloody comfy mattresses that I now crave to have at home.