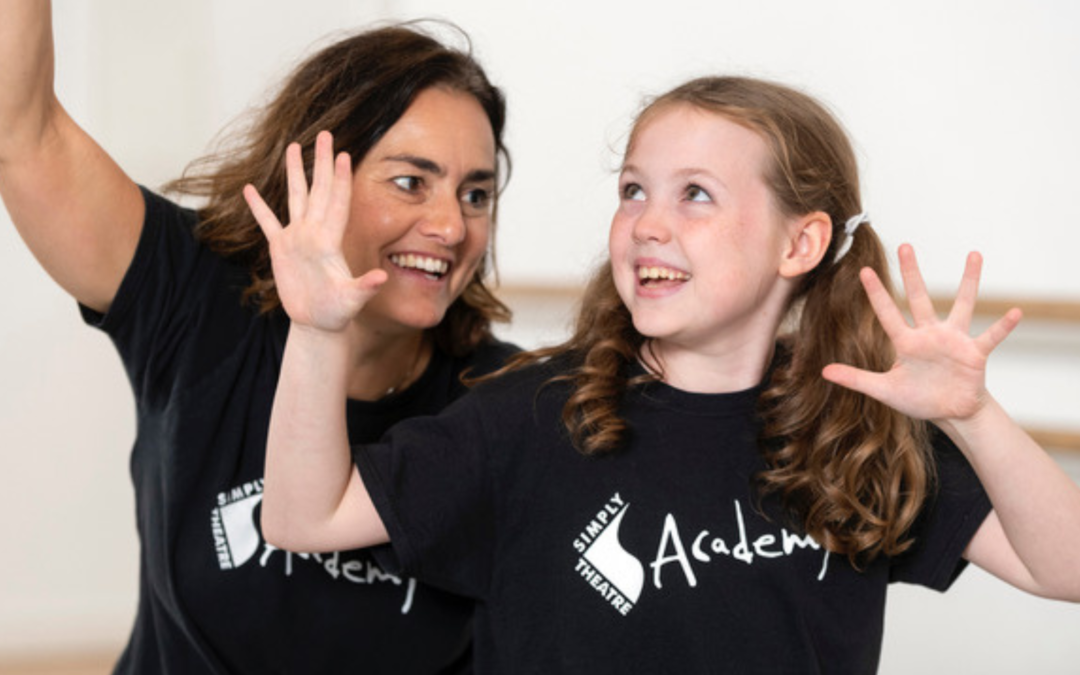 If you haven't heard about Simply Theatre by now (or heard but didn't get into the details), stop now and read what I have to tell you.
It's an English-speaking Theatre with a performing arts Academy. You can see their shows in Versoix and Zurich or enrol your children into the Academy in various locations in Geneva, Annecy, Lausanne, Basel, Zug, and Zurich. Their classes and camps are by far one of the best English-spoken extracurricular activities I encountered in Geneva!
PURE ENTERTAINMENT
I've taken my daughter to Simply's plays since she was about 3. We loved every one of them – to the point that we still sing the Christmas song from one of the shows we saw 5-6 years ago. The shows are joyful and playful, the actors interact with the audience, and nobody is ever annoyed by kids jumping, dancing or vocalizing excitement from their seats. It's pure joy!
Simply Theatre's programme this year is spectacular! There are many shows for all age groups. I'd suggest you go see one of them if you have any doubts about the quality of this theatre and its Academy (in most plays, actors come from Simply's drama classes, some like the Christmas show have professional actors too).
THE ACADEMY
Before I got her to agree to enrol, I had been trying to convince my daughter to join drama classes by Simply for years. After the first 3 weeks, on our way back home, she said: "Mom, I am so sorry I was saying no to these classes for years. How silly of me! I will never stop and for my own kids, drama with Simply will be obligatory!".
Not to mention that her school reports started to reflect a lot she has learnt at Simply Theatre. Drama or performing art classes are not only an occasion to learn some hard skills, but kids come out with new or boosted soft skills like teamwork and more confidence as well! Their courses (from age 4 to 18) start from an hour a week and run from September to June. Lots of time options after school and on Saturday mornings.
SELF ESTEEM BOOST
You may think that drama or performing arts classes are for those loud, shiny, extroverted kids with Broadway or movie career ambitions. Don't get me wrong, they will benefit from these classes immensely (they can even pass LAMDA exams!). But introverted or even shy children have even more to gain.
Drama classes help build up confidence and self-esteem. Not to mention getting over the fear of speaking in front of a group, pitching ideas, and being openly creative. This is all visible at the end-of-the-year showcase! There is no way an outsider could guess which child is the silent introvert – after a year of classes, they all open up (at least on the stage).
THE FIRST TRIMESTER
The first trimester focuses on building a team, getting to know each other, and working in pairs, small groups, and big groups. To ensure they can prepare the showcase as a team. This can be a challenge for shy/introverted children. Still, Simply's teachers do a brilliant job getting everyone together and ensuring everybody feels welcome.
Those shy kids will feel free to be silly, create, and improvise. They will practice expressing different emotions and bring a lot to the team by understanding the feelings of those around them. And last but not least, they will surely make friends!
But again, confident and outgoing kids will benefit from these classes, too! And who knows, it may lead to a successful career!
SHOWTIME
The second trimester is filled with improvisation but also understanding scripts and characters. It's all needed to enter the last trimester, the most exciting one – preparation of the showcase!
The order of what is done each trimester is slightly different between age groups. The 12+ groups will have their showcase in the second trimester (so that it doesn't clash with their school exams).
During the whole year, children can also enter auditions for shows at Simply's Theatre HQ in Versoix. Even without getting the role of their dreams, auditions are another great way to experience performing arts, and push one's boundaries.
PARENTS-TEACHERS
One important thing about Simply Theatre Academy is how teachers interact with parents. It's not just about the facts. They are warm, open, kind, and communicative. A few weeks into the school year, parents will be invited to observe the class (it's so much fun)! Parents can contact their child's teacher anytime with questions and information.
The cheery on top is the mid-year parent-teacher meeting (online). So many parents I talked to were deeply touched by the deep insights they received and by the understanding towards their child's personality at the Academy.
The meeting lets parents know more about the classes and their child's participation. On the other hand, it gives the teachers more insights about the child and helps them understand what to focus on with each student for the rest of the year.
PRACTICAL INFO
Simply Theatre is an English-speaking theatre with drama and performing arts classes in English. Children must be fluent confident with English (able to understand instructions and communicate) in English to attend.
Classes take place in Versoix, Petit-Lancy, Chene-Bougeries, Annecy, Lausanne. They are also available in Basel, Zug, and Zurich.
The open day, when you can find out more about courses and kids can try some activities, takes place every year in May. Simply Theatre doesn't offer trial classes, apart from the trial day in May, but the first six weeks of term can be considered a trial, as you can break the contract and receive a refund up until the end of the first term if you are not sure for your kid.
You can learn more about Simply Theatre's shows and lessons at simplytheatre.com.