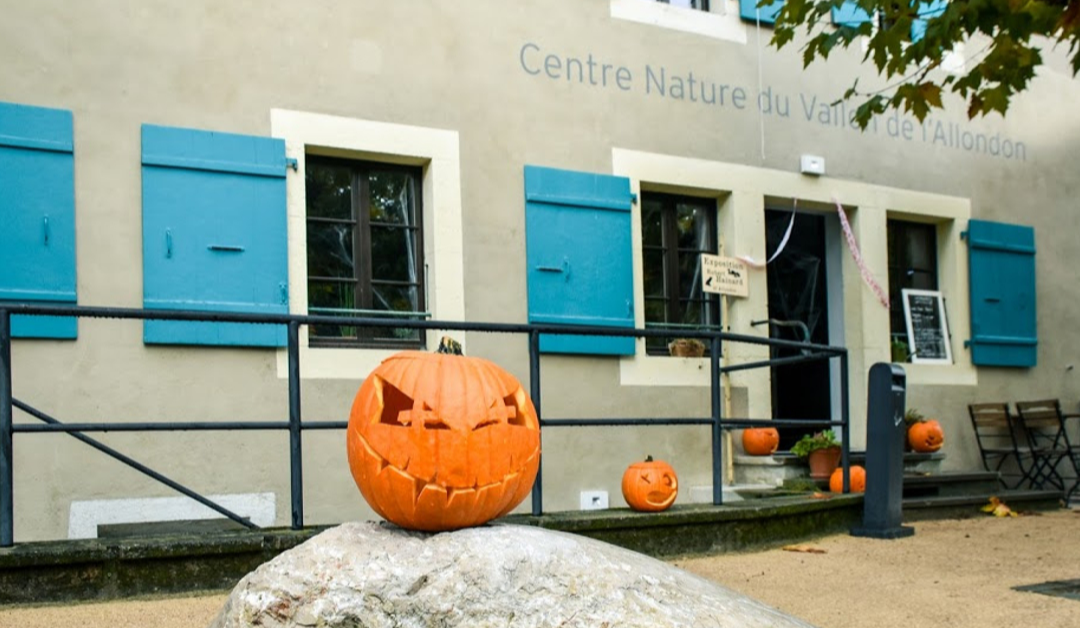 Halloween in Geneva is getting better and better every year! Even if you don't happen to live in a neighbourhood keen on trick-or-treating, there are events you can attend to celebrate this scary holiday!
Also, don't forget to ask your friends about their hood's Halloween traditions, as many do have candy waiting behind every door.
Here's the list of family-friendly events for Halloween in Geneva in 2019:
PUMPKIN CARVING
OCTOBER 23rd (Plan-les–Ouates) & 30th (Gland)
A professional awaits you in the Schilliger Garden Centre (Gland or PLO depending on the chosen date), to help your kid carve the pumpkin and thus prepare for the holiday! Participation costs 15CHF; no prior booking is needed.
Chaplin's World has a whole October planned with spookiness! Till the 20th of October at 3 pm every day there will be a costume competition (a bit of acting needed as well!) and face painting. From October 21st till the 27th  they will hold a black-light show where ghosts and ghouls dance at the Monster Ball, plus pumpkin carving workshops. At last, from October 28th till November 3rd, two kids enter for the price of one. More about it here.

Vitam Parc
October 18th, 23rd, 26th, 30th
Vitam Parc launches Halloween during the October holidays already. 4 dates of different activities and workshops in the theme of spookiness and fun. You can see the detailed program here.
Nighttime rides in the trains paradise! During the terrifying period of the year, the Swiss Steam Park opens its doors to the bravest for a ride in a ghost train. The park will be fully decorated with Halloween colours. Pumpkins per hundred, ghosts, witches, giant spiders will be at the rendezvous. Enjoy squash soup and chestnuts over a wood fire. Also: makeups and witchhunt! Special treat: night-time rides on the 12th, 19th, 26th, and 31 st of October (16h-22h). For more click here.
The Kingdom of two sisters: Melanie and Soizic, commonly known as Royaume Melazic is the place to go when it comes to everything related to baking and pastry. It is also THE place in Geneva for kids to enjoy making cupcakes, cookies, and other sweets. For Halloween, Royaume Melazic will open its kitchen to the children (ages 6+), where the baker-witches will reveal all their secrets about making pastries as delicious as they are scary! Whether it's cupcakes or biscuits, every budding pastry chef will go home with his or her own creations.  Don't hesitate to come dressed up – in this Kingdom everything is allowed! In Parentville's calendar it is here.
Parc Aventure in Evaux offers three days of nighttime tree climbing! There are only 150 places available, so book fast. All kids above the age of 7 can participate. Bring your costume! A bit more here.
This workshop is free and will take place on the 4th floor of Manor in Geneva, in the Manora Restaurant. Bon apetit! Yu can also find this event in Parentville's calendar.
Pro Natura and Restaurant Les Granges in Dardagny teamed up to provide you with an evening of spookiness and deliciousness. It's worth considering as this will be the last day this year that this magnificent restaurant will be open. A special menu for this day will include enchanted pumpkin soup, red&black burger (a vegetarian option available), or a mysterious creme brulee. Most importantly, activities for kids are planned too – the discovery of the night world! Feel free to wear your scariest outfit. Click here for more.
For one evening the streets of Gland will transform into a Halloween scenery with inhabitants walking these streets in seasonal outfits! There will, of course, be the contest for the best costume. The organizers have partnered up with Haribo to ensure you have enough for trick-or-treaters (link here). What's in the program? A pumpkin soup, a parade, a contest, a ball! In the haunted village, bars and food trucks await you, for the pleasure of your taste buds (tears of unicorns, bat steaks, Chimpanzee kidneys, seaweed lettuce, stuffed mosquito emulsion, carrot with maggots …).
Swiss Nanny Association is hosting a spooktacular party this year in Geneva! It will be accompanied by various crafts, games, sensory play, and storytime. In general, kids above 2yo and under 9yo will have plenty of things to do (younger and older kids are welcome as well!). Tickets are on sale here. Raised funds will support the Swiss Nanny Association. Check it out here.

Located at the Port of Pully (close to Lausanne), the MiNi-Train is a 1/8th scale railroad club run by volunteers, where children and adults can take a seat in wagons for a journey of about 5 minutes each. The 420-meter circuit includes a tunnel, five-level crossings, and a train station.  "Thomas the tank engine" fans will be thrilled to visit this place! For the Halloween weekend, the whole place will be decorated, filled with spooky elements, and unique animations and activities. Kids wearing costumes will ride for free! Check it here.
This cool park about 30 minutes by car from Geneva is one of our family's favourites, and they offer great children's activities. For Halloween they've got a full day of fun activities in store, including a Halloween make-up zone in the restaurant from 9h00 till noon (ages 6+); course with the creation of a scary trick and a sensory experience (ages 2.5-6), and disco from 13h till 17h. Some activities must be booked beforehand (via phone or email). More through here.
For the most courageous of you, there are also events in indoor play centres: Jayland in Gland (October 31st),  L'Ile de Tortuga in Annemasse (all weekends of October probably), C L'Aventure in Annemasse (October 19th-November 3rd, and a Halloween Party on October 31st).