You can find plenty of Christmas shows, workshops and other events in Parentville's December 2018 agenda. In this article, I will share some other Christmas attractions worth your time.
Noël aux Bastions
The first edition of an adorable Christmas market in the centre of Geneva – in the Parc des Bastions. Yurts and chalets, shops and services, food and ice skating. There is one yurt with lids activities every day, and one other with punctual activities (you can
check them here
).
Noël a Carouge
When Ville de Carouge is organizing a festival, it is always a must-visit event. So much will be going on, I have to send you to
a detailed pdf
, but if you need any help decoding it, let me know in the comments!
Geneva Lux
One of the yearly events for which I love this canton so much! Geneva Lux is a festival of light always happening at the end of the year (and slightly in the beginning of the year). It is a part if the Christmas deck but it is not Christmas-themed. Local and international artists make all the installations that please eyes of passersby no matter how strong the bise. Check
the program here
.
Lancy en Lumiere
Some "communes" never accept staying behind. One of them is Lancy with its festival of light that transformed urban space into an art space. You can find
the whole program here
.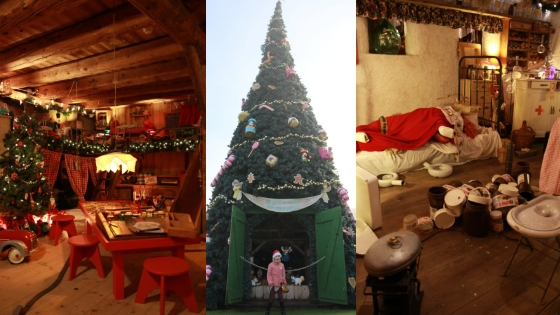 Hameau du Pere Noël
Santa's village 20 minutes drive from Geneva is every child's delight. Far from being tacky, it is a fairytale land of Santa, his brother Père Foutard and his sister Mère Noël. The level of detail of the decorations is impressive. Watch closely, and you will find some tongue-in-cheek elements. You can visit Santa's house and those of his relatives. You can visit the land of dummy's and donate yours (for each dummy Santa will bring a meal to a child in Cambodia). There is also the Elves' garden, Santa's sledge, a story time, a but to write letters (and receive a reply). All can be fueled by crepes sold indoor and outside.
On weekends a nearby farm is opened for business with animals and local produce!
Schilliger garden centre
Every December this high-end green shop transforms into a Christmas land. This year's
Christmas market
has the circus as a theme, and it is magnificent. The decorations are wonderful; you can order a personalised Christmas-tree ball, and meet some animals. Important notice: opened on Sundays till December 16! Be sure to check the list of
kids activities
planned for Sunday 16th in Gland, but also
the animal farm
visiting the Schilliger in Plan-Les-Ouates
Marche de Noel Montreux
The most renown Christmas market of the region is in Montreux. So renown you should avoid going there over the weekend, and if you can't help yourself take the train. Beautifully decorated, with tons of attractions (including a flying Santa sledge, and Chateau du Chillon special time), is one of those events one should visit at least one time over a stay in Switzerland. The Family of 5 prepared an excellent article about this event, so I'll let you discover their photos and experience
here
.
Rochers-de-Naye Santa village:
Because we're already in Montreux, how about a mounting train up right the Rochers-des-Naye to the Santa's house in a cave? Fun waiting for kids there includes a treasure hunt and a diploma hand signed by Santa. More about this Golden Pass trip
here
.
A BONUS:
Here's a link to a crazy list of all Christmas markets in the French-speaking part of Switzerland. Click here and knock yourself out!