Col de la Faucille in summer is even more fun than in winter! It offers so many activities that could easily fill the whole weekend. And if we add some other fun places from Gex, we'd have the whole week of adventures!
Accrobranche (and more!) at Juraventure! This obstacle trail is adapted to kids as little as 1 metre of height. The trails for kids are really great, while those for adults seem to be awesomely challenging! Juraventure also has mini golf, donkey rides, carriage rides, and paintball. It is conveniently located just next to the parking (well enough separated to be safe). You can check out their whole offer on this website.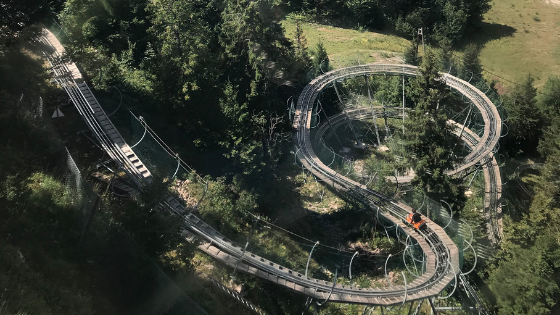 Eng. summer sledge aka rail toboggan. It is a combination of a roller coaster and sledging. Each sledge goes separately on special rails. They are very simple to use – one stick serves to both break and accelerate. All the way down you can control the speed and go really slowly, really fast, or something in between. You cannot stop though, as it is dangerous for others and yourself. You have to keep the distance of 25 metres from the cart in front. Ignore the grumps who will criticize you for going too slow but don't be ashamed to yell at those who come too close to your cart. Kids under 5 are not allowed to join the fun. From the age of 5 they can enjoy the sledge with an adult, from the age of 11 they can go down alone. Both me and Z were deadly scared on the first run, had fun on the second go, and pure joy on every next ride!
Get to the top with the telecabine (gondola lift) – accessible with strollers, bikes, and wheelchairs. The trip is short, with a taste of spectacular view waiting for you at the top – beautiful Jura mountain chain on one side, and amazing alpine panorama on the other side with the lake, Geneva, and Jet d'Eau underneath. For many kids, the trip with telecabine will be an adventure on its own! There's a restaurant on the top, so grab an ice cream and walk back down (20-30 minutes walk). For opening hours and prices check here.
If you'd like to prepare your kids for some serious alpine hiking, or simply get them started, Jura is perfect: hikes are rather easy, with great views and sometimes even animal guests, or raspberry tasting. You can, for example, go up with telecabine and walk down choosing from 3 different routes (20 mins, 40 mins, 60 mins). Check this website for more details.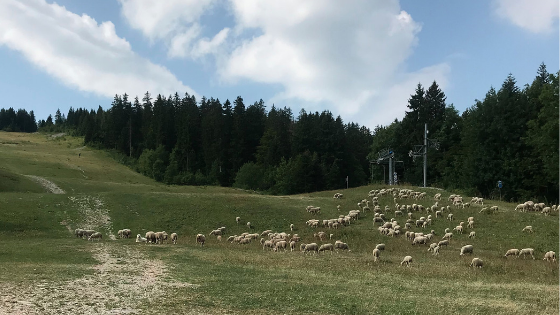 How about summer with sled dogs? CanniRando is walking the dog in the mountains (for around 2h), but it is the dog guiding you, not the other way around. CaniCross (around 1h) is the same but much faster, for more sporty folks. Or maybe you'd rather try a CanniTrotinettee (a scooter pulled by a dog)? All this to find in Mijoux (a village down from the Faucille)!

More in the neighbourhood
A 20 minutes drive without leaving the mountains, and you're in Lemoura, where Gaia Loisir offers a bare feet trail, pony rides, trees-trampoline park, and more. Also relatively close: Espaces des Mondes Polaires (a museum and an all year ice rink). There is also a great firemen museum in Gex, as well as the famous Belle Ferme (poneys, horses).
A SLEEPOVER
If you fancy staying in Jura overnight (great solution to hot Geneva nights), there is what to choose from: campsites, hotels, (la Couronne, La Mainaz, and more) chalets, giant balloon-like tents, and more! And I'm serious about the balloon-like tents. For all kinds of accommodation in this Jura station, check out their website.
Now that you know the la Faucille mountain top a little bit better, will you make it there this summer?