Photo credits: Gymboree Geneva. (all pictures in this article).

A few weeks ago I was invited with Z to visit a familiar place that we had not been to in a while, a place beloved by us both; Gymboree Geneva. As soon as we entered, the familiar smell of babies and sounds of happiness brought back my memories of joy and exhaustion from the first years of motherhood.
Our story
Back then, when Z was little, my French was limited by a massive lack of confidence, and I did not know many other local parents, so when a friend told me about a play centre for English-speakers I didn't think twice. Z was eight months old, and with each passing month I felt more lonely and addicted to my phone (and the mom-friends I chatted to within it). To cut a long story short, Gymboree Geneva ended my misery. I met my best friend in Gymboree, Z met her best friend there as well, and we learnt songs that we still sing today!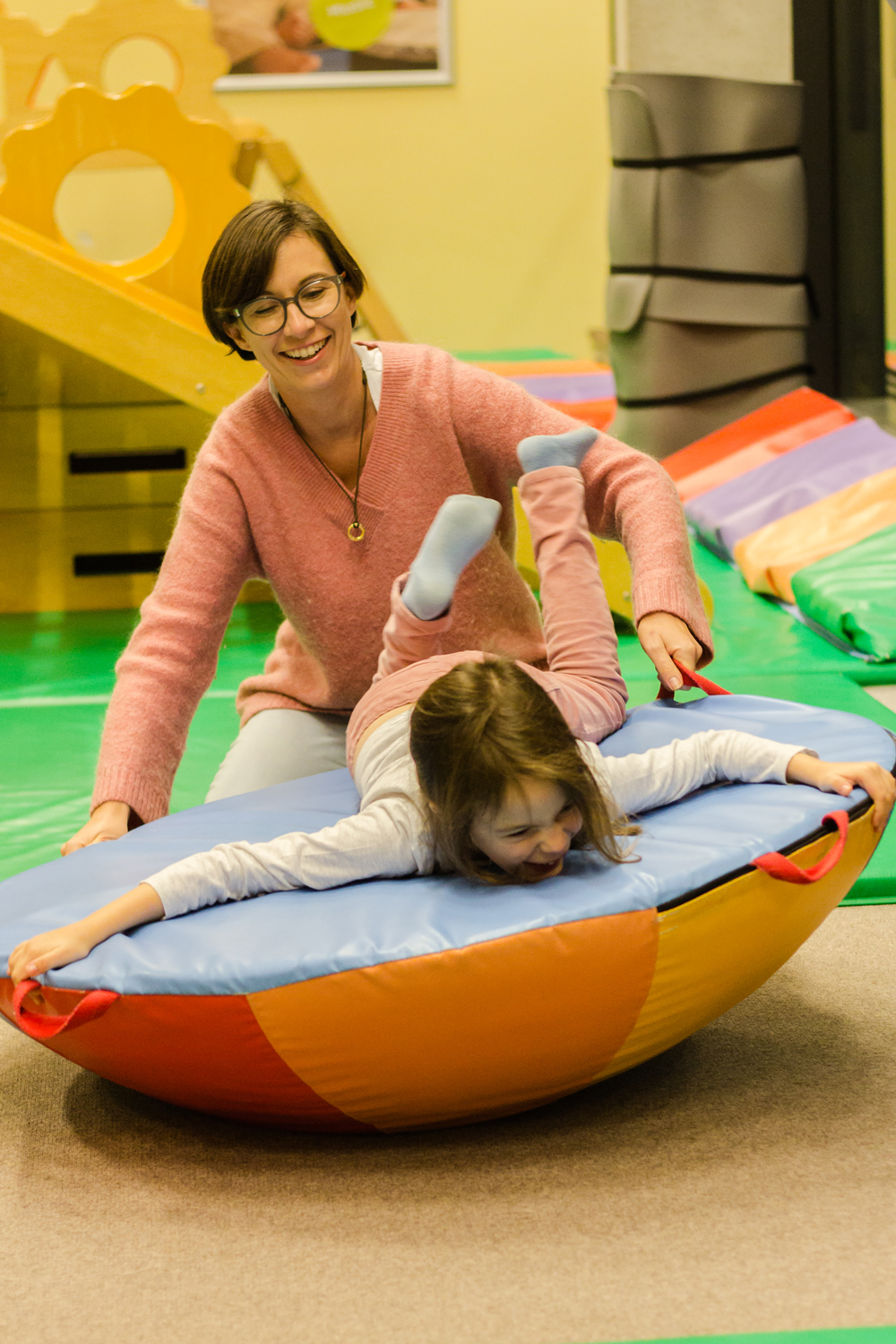 Gymboree Geneva
Located in Grand-Saconnex, Gymboree is a large soft-space area with many fun obstacle courses for babies and toddlers. It also offers several types of classes, including sensory, music, art, play&learn, for a multitude of ages, and there is a free COFFEE MACHINE!
And that is not all – there is also a preschool, the possibility to organise a birthday party within its soft, colourful interior, and countless occasions to hug a giant plush clown called Gymbo. Oh, and my first children's book "ABC Geneva" is available in the little Gymboree boutique!
Gymbo himself
If, at first, you feel like it sounds a little bit like joining a sect who pray to a colourful clown, don't worry, you're probably not the only one (at least I hope I was not the only one!). Sitting in a circle each week with Gymbo sat front and centre, singing songs about him and to him, and then taking turns to kiss him might sound disturbing at first. Don't worry though; it will pass, and soon you will be thankful for meeting Gymbo, his role in making your kid happy, and for a bigger circle of friends who will love to chat about diapers, sleepless nights, and developmental milestones.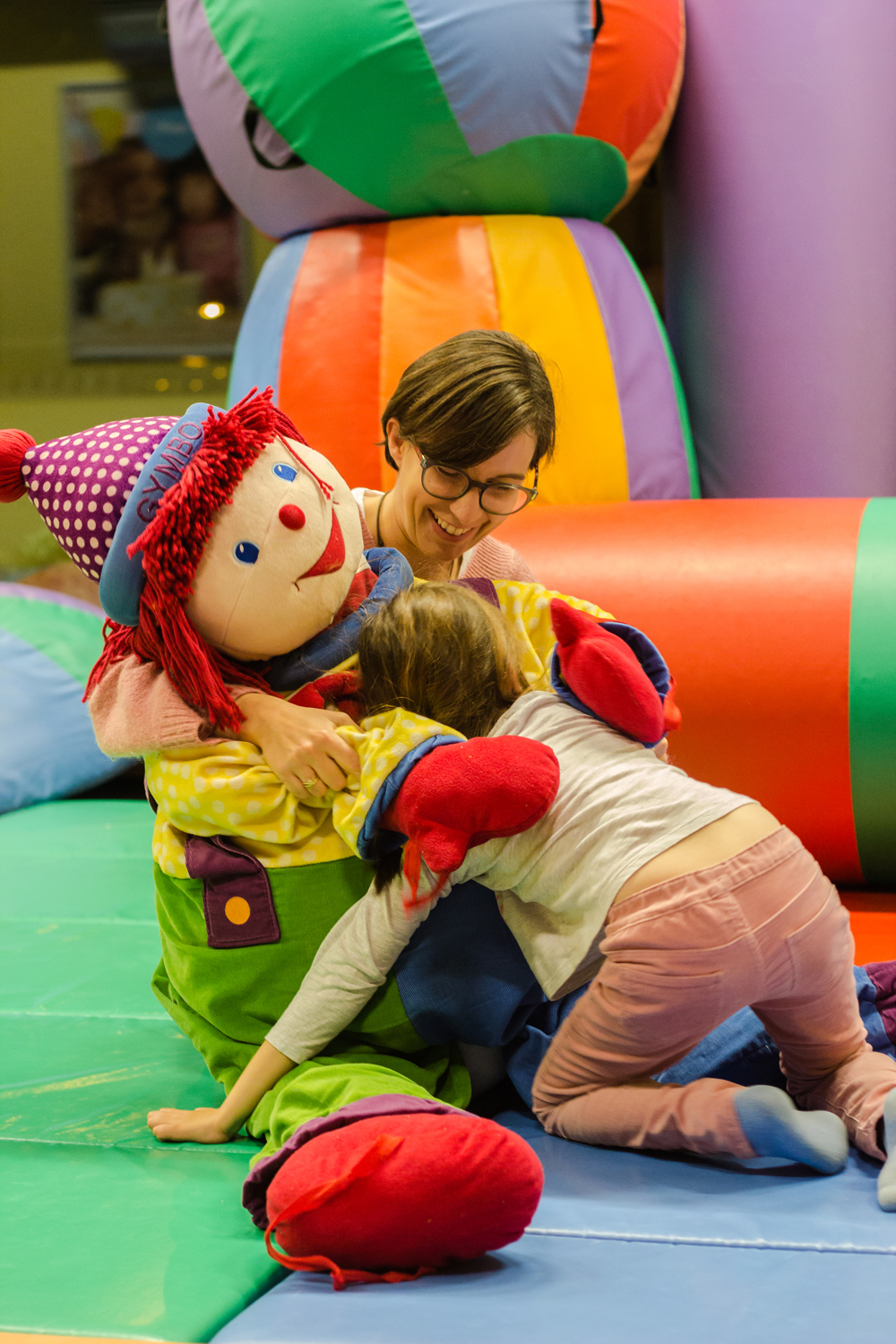 It's funny, now that I have written this it does feels even more like a sect, but a pretty damn good one: Gymbo the clown – The Savior of Parents.
PLAY GYM
What I love most about Gymboree is that even if you enrol only for one class per week, you still have access to the play area during the "free-play" hours called « Play Gym » (which is offered 2-3 times a week). This alone is brilliant during wet and cold months, or when you just need your child to let off some energy while you have a well-deserved (and still hot) coffee or tea.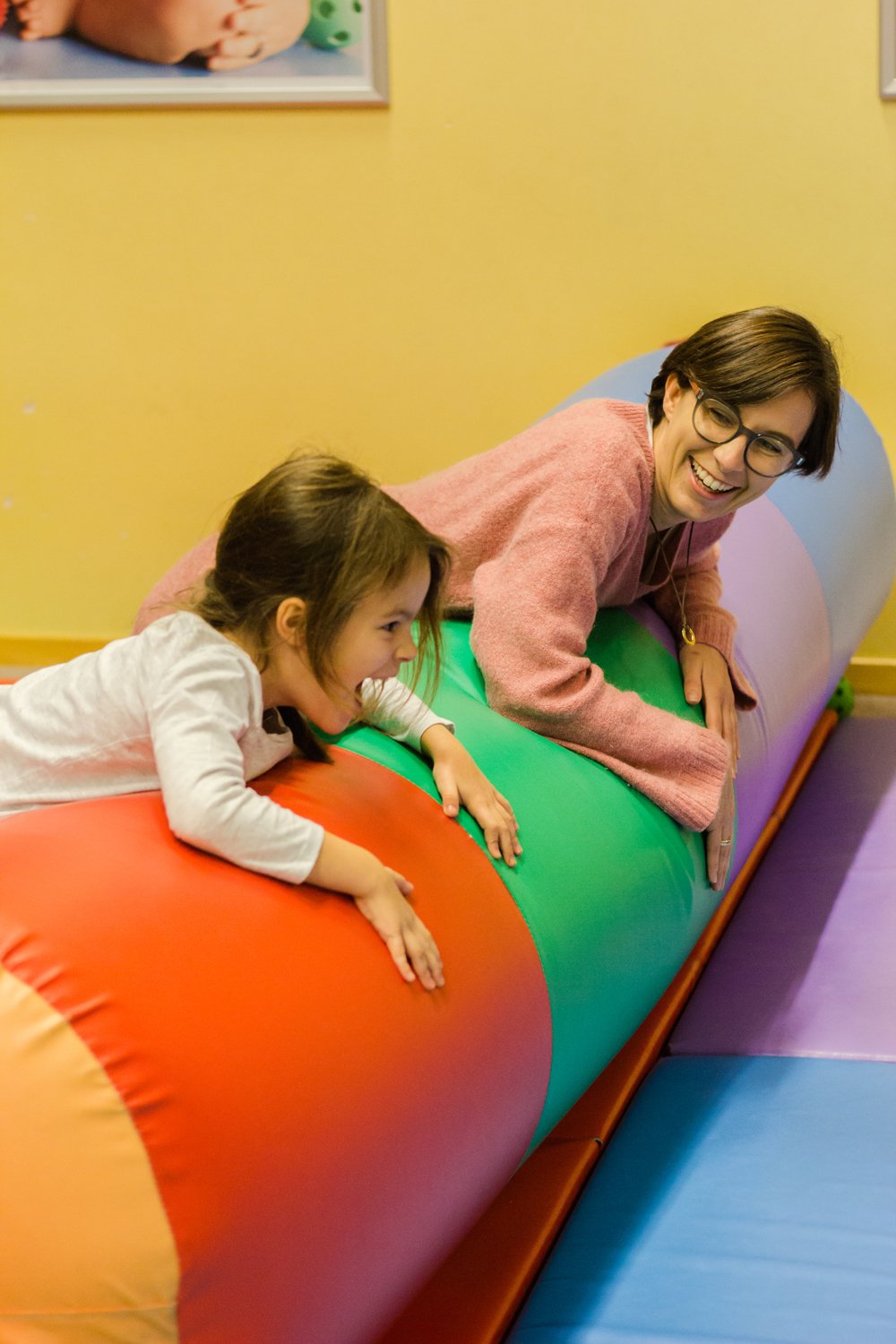 I remember times when my new parent-friends and I, after a sleepless night, would take turns to keep an eye on the kids while some others chilled with one eye closed in the corner, fuelled by coffee and biscuits. It became our refuge, almost like Starbucks has done for a teenager eager to get out of the house.
The village
Gymboree definitely helped me create my own village (and I am sure we all agree that it takes a village to raise a kid, or us parents go nuts!). It was there that I met women without whom Parentville would never have come to life. It also helped me to speak English with ease, a bonus that we were not aware of, not we did we expect.
YOUR SOCKS
So, if you have a child or children to care for and are looking for a place to have both a coffee and an enclosed play area for the kids, Gymboree is THE place.  
There is just one thing left to do: put on your socks. Yes, socks! – Because you can only enter the soft-space with socks on. Learn from my mistake, and make sure you have socks on both feet, preferably the same pair, and without holes. Although Gymboree has thought of that and has some spares readily available for those days when even getting two socks on your own feet seems like a challenge.
If you would like to know more about Gymboree or my experience there let me know in the comments, send me an email or even a pigeon will work (just let me know what I need to feed it, and if it, too requires socks).