A very honest review with surprising tips, not so great pics, and vocabulary too poor to truly present how unique is the Hameau du Père Noel.
DESIGNER'S BRAIN
Just 10 mins drive from the Swiss-French boarder of Bardonnex, lies the village of Santa, his siblings, and the elves. Each house is decorated with a jaw dropping attention to detail. Imagining what was happening in the brains of people who designed this village is an activity I can never avoid while visiting. It's just so unbelievably fairy-taily.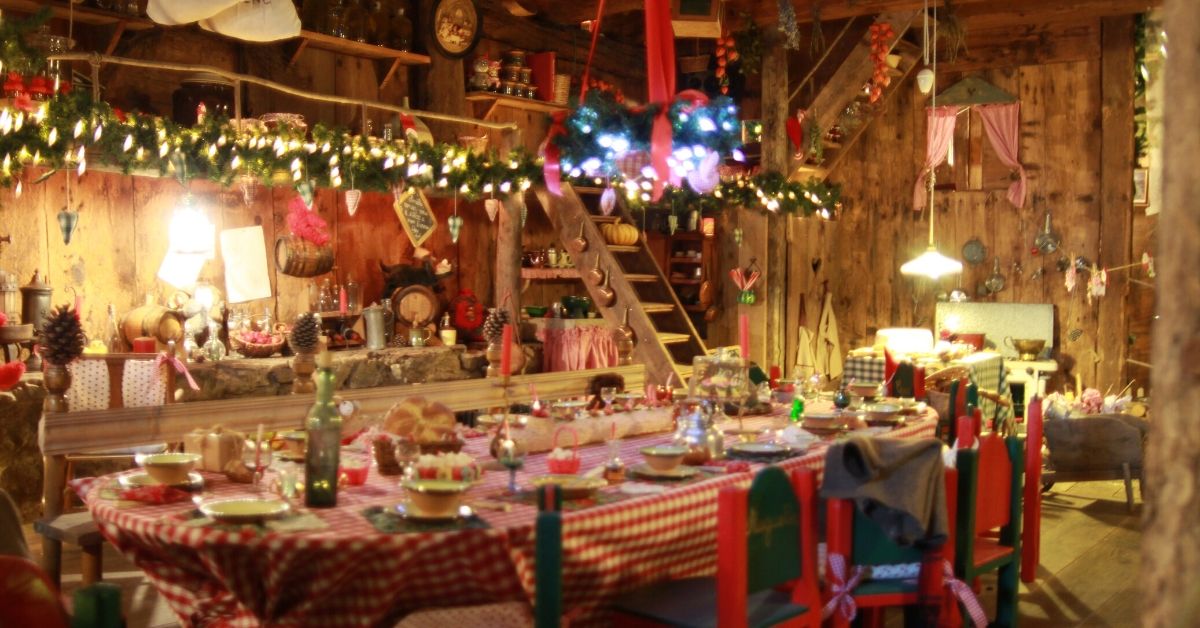 SANTA'S HOUSE
Santa's house let's us have a glimpse into his private and professional life. What does he eat? How does he store letters and plans his journey? What is he doing in France – shouldn't he be busy in Lapland now? All these, and more, questions will be answered by Santa himself, or one of his siblings. A tricky thing is, Santa is fast asleep from December 1st till the 24th… (you can hear him snore). The elves on the other hand are very busy, but also very shy. You can hear them, almost see them, but they are quick…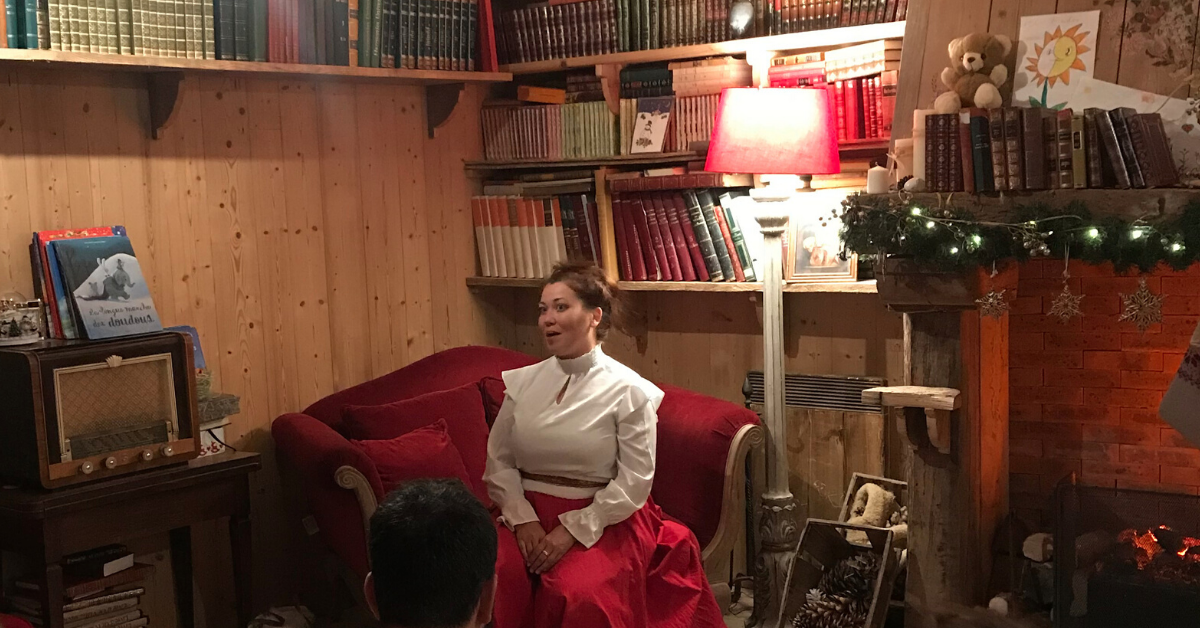 SANTA'S SISTER – STORYTELLER
His sister, Mere Noel, has a very cosy house. Downstairs, she keeps a selection of dresses, but also tells stories in a very snug room – a delight! You can also visit upstairs where she sleeps and probably works.
SIBLINGS RIVARLY
His brother, Père Fouetard, is a mean and angry fellow. Probably jealous of his brother's fame (siblings rivalry big time). To be honest it must suck to have a brother everybody loves and be given a different role just because he was born in a different year. Of course, we don't really know the whole story, but let's show him some compassion. He is the one most eager to chat with everyone… and it is never a jolly conversation. His house is funny though, so pretend you're brave and go in.
Hameau du Père Noel is also the garden with a giant Christmas tree, elves garden, Santa's sledge with its runway (!!!), and letterboxes. There is also a buvette with crepes and beverages, as well as a gift shop with everything you may need for Christmas.
ENTER NIGHT
There is also Marchand de Sable – Sandman. He is the one responsible for a goodnight sleep and beautiful dreams. But in the Hameau du Pere Noel he is not sprinkling magical sand into visitors' eyes. He is the collector of dummies (aka pacifiers). He is the guardian of dummies, and has created a magical place whee children can part with their dummy when they are ready and hang it on one of the many christmas trees. For each dummy, he will buy a dinner for a child in a Third World country. At the end he presents dummies of celebrities: Harry Potter, Batman, the Invisible Man, Mickey Mouse, and more! I wonder how many you can guess.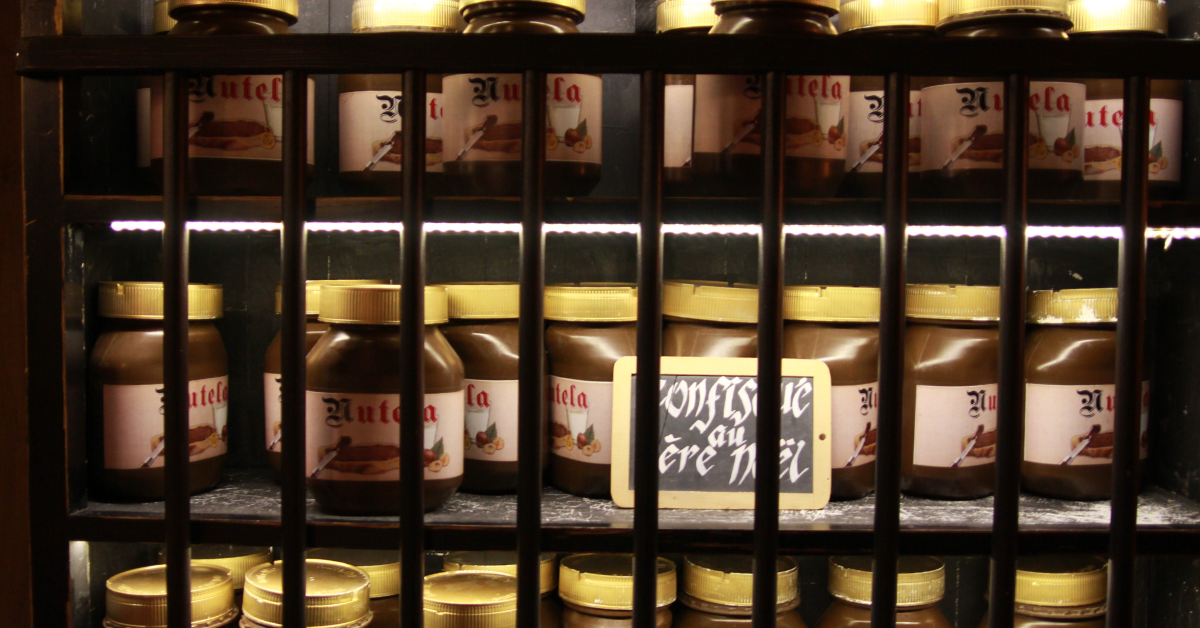 ANIMALS
At the end take a quick walk down the road to find where Santa hid his animals. His reindeers are kept in a real secret location but here you can see and pet rabbits, deers, ponies, sheep, goats, and calves! Additional entry ticket is needed to visit this venue (it is not an official part of the Hameau). Few more details about it here.
PRACTICAL TIPS
For obvious reasons, Hameau du Père Noel is cray crowded on December's Wednesdays and Weekends. My advise is to go there in early November or in January (no crowds, Santa not asleep). It is also a fab trip in summer (personally tested by yours truly). Of course, the most fun happens during Noel – check the program on their website. The staff assured me that on the 24th we can even see Santa take off – anybody wants to check it for me please?
You will be asked to leave the pram by the entry. The venue is big but not big enough to welcome everyone with a pram. Hameau is 100% wheelchair adapted.
Address:
Le Hameau du Père Noël 75 rue des alouettes 74350 Saint-Blaise
Offical website
:
Hameau du Pere Noel
.