It feels like the school has only just started, yet here we are again on vacation. Vacances des patates, as they are commonly called in Geneva are not as easy to plan with the crazy changing autumn weather.
Luckily there are still many options to occupy little and bigger ones every day during this October vacation in Geneva and around.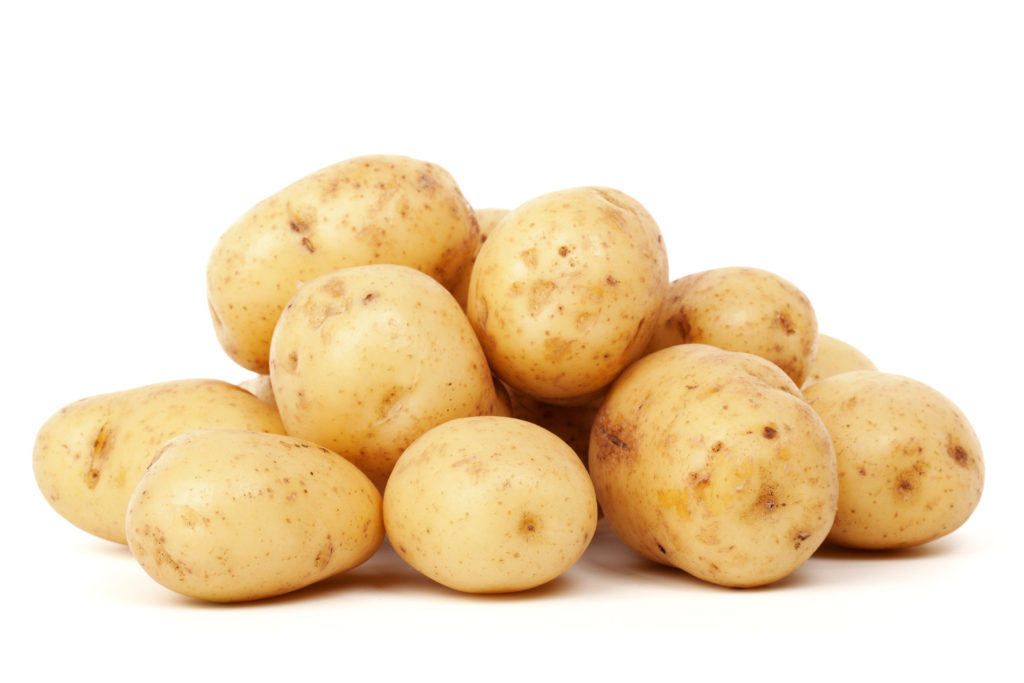 MParc in La Praille (attention! not La Praille commercial center) has prepared the whole week of creative workshops for the October vacation for kids aged 3-12! Every day from 10h00 till 18h00. Check out the planning below or click on it to open MParc's website with more details.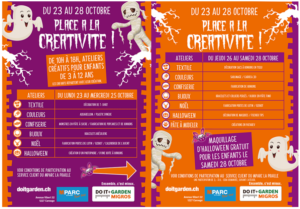 MAH Genève (link here) has prepared the whole week of kids activities and as always, they're brilliant! The majority of planned workshops, concerts, and shows are aimed at kids aged 6-12, but on Friday there will be lots to do for younger audience. Click on the image below to download the program and all needed info,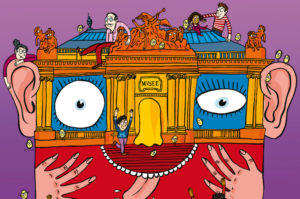 Maison de la Créativité (link here) is opened this week every day from 14h30 till 17h30, and on Saturday from 9h30 till noon, and from 14h30 till 17h30. If your kids are aged 0-6 (well, to best benefit 2-6) they will adore this 3 storeys old mansion transformed into every child's dream. Each room serves a different activity be it playing with light, playing with light tables, building a ceramic lamp, using colourful tapes to create images, or exploring the world of science. Or maybe just hang out in the surrounding park-sized garden filled with other fun adventures.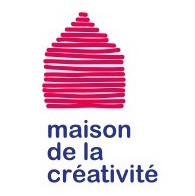 MEG (linke here) – the Geneva ethnographic museum prepared many activities together with the Théâtre des Marionnettes de Geneve. Most of them are aimed at children aged 8+, some are accessible to those aged 7.
Hameau du Pere Noel is ready to welcome all Santa's little friends close by in France. This week opened daily from 10h00 till 18h00. Santa can also help your kid get rid of the dummy – for every finished friendship with the dummy, Santa will offer one meal to a child in Cambodia. Fun place even during bad weather.
Parc Aventure in Evaux, (for children aged 3+)this week opened daily from 10h00 til 18h00 and is filled with Halloween decorations. Speaking of Halloween the adventure park will be opened from 19h till 23h00 on the October 28, and November 3-4.


Genève Sa Gueule (link here) – a portraits exposition showing the diversity of Geneva population with accompanying activities for children aged 6+, though younger are welcomed to join with an adult when the place is not very busy. Absolutely worth visiting.
OTHER PLACES WORTH VISITING HERE AND THERE, DURING OCTOBER VACATION IN GENEVA
For kids aged 0+
Papiliorama (click here to see their website)- butterflies (and bats) paradise. Parentville recommended

♥

C la Venture, in Annemasse (France): an indoor play-park. visit their website here.
L'ile de Tortuga – for all ages (more info here) – the biggest indoors playing area in France.
Zoo la Garenne (more info here)
Warm waters of Bains de Cressy (more info here) or Bain Bleu (here's their website).