From now on, once per season (let's see how many seasons will have this year), Oksana Petersen will share with you yummy and healthy recipes that the whole family can enjoy. She invites you all to cook with children using seasonal produce. For this last few weeks of summer (yes, it's still on!) she came up with some crazy deliciousness! See for yourself below.
THE LAST TASTE OF SUMMER
– RECIPES BY OKSANA PETERSEN
Messy Sweet Apricot Crumble
Apricots from Valais are in abundance now. They are known for the juicy sweet flavour & firmness which makes them perfect for a crumble. Apricots are high in Vitamin A, which is crucial for healthy eyes, as well as vitamin C, which keeps our immune system strong to ward off viruses.
Usually crumble is cooked using highly refined nutritionally poor white flour but this recipe uses much healthier wholemeal spelt flour. Spelt flour nutritionally is far better than white flour. When used in baking, it gives the final product very soft, moist texture. Spelt flour does not provide the same fluffy, light texture as a white one. You could mix 50/50 white flour with spelt flour to retain some of that soft sponge consistency, for example for sponge cakes or cupcakes.
Instead of white sugar, a much healthier alternative of maple syrup is used. The crumble will still taste sweet but without the post cake sugar rush.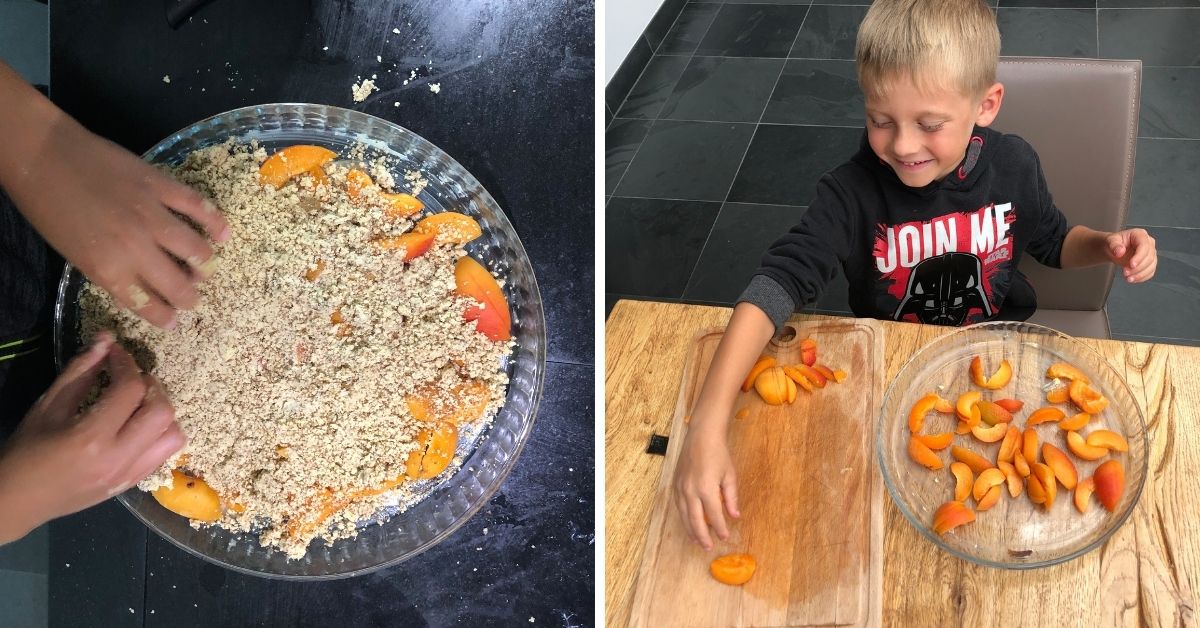 Serves 4-6
Ingredients:
5 medium-size Valais apricots;
175g wholemeal spelt flour;
65g cold bio butter;
25g ground almonds (in case of a nut allergy omit the almonds);
50ml organic maple syrup.
Instructions for a child
Wash apricots & dry them with kitchen paper.

Using your hands open apricots & remove the stone. Throw away the stone.

Take a large bowl. Add flour & butter. Using your hands rub the butter into the flour until the mixture looks like breadcrumbs. It takes a little bit of time.

Into the bowl with "breadcrumbs" add almonds & syrup. Using a big spoon, stir until all the ingredients are well mixed. Taste a little bit & if it is not sweet enough add a little bit more of maple syrup.

Take the baking tray, using our hands scatter apricots chunks onto the bottom of the tray.

Take a big spoon, sprinkle the "breadcrumbs" mixture over apricots, making sure all apricots are covered.
Instructions for a parent
Cut apricots into small chunks.

Weight the flour, butter, ground almonds & maple syrup in different containers.

Diced the butter.

Preheat oven to 180deg c/ 160deg c Fan / Gas 4.

Graze the baking tray with butter.

Bake for abt 30mins.
Serving suggestions:
when the crumble is hot, add a bit of vanilla ice cream to a serving portion. A spoon of Gruyere cream is also delicious with the crumble. A homemade custard makes this treat even tastier.
Super Easy Fresh Tomatoes Pesto
Tomato sauce is definitely a kids favourite. We don't, however, need to either used canned tomatoes or spend time by the stove cooking it to receive a delicious tomato sauce. Here is a Super Easy Fresh Tomatoes Pesto made in minutes. It can be kept in a fridge for a day to save you time.
Fresh cherry tomatoes make pesto really juicy & full of flavour. The chives & fresh basil complement the taste & also give it a yummy smell. Check out Serving suggestions to find out how this pesto might become your favourite sauce this summer.
What kid doesn't like to use a kitchen gadget that makes a noise?! So prepare blender, food processor or a bullet to have your little ones have fun.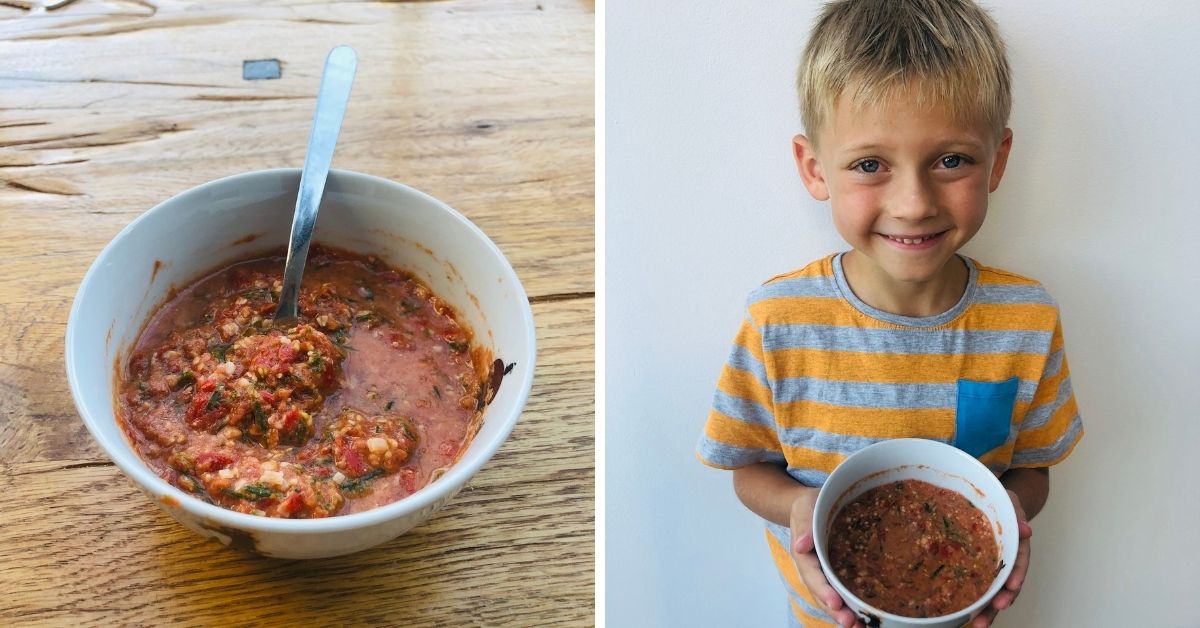 This recipe makes about 1 large muesli bowl.
Ingredients:
500gr cherry tomatoes,(mix red, orange & yellow ones for more colour);
1 clove garlic;
½ handful of chives (or a small onion);
6 fresh basil leaves;
½ tsp salt;
2tbsp olive oil;
2-3 tbsp freshly grated Parmesan cheese.
Instructions for a child
Wash cherry tomatoes, chives & basil leaves & dry them with kitchen paper.

Into the blender put garlic, salt, basil leaves, tomatoes, chives, salt, Parmesan cheese & olive oil.

Mix on full power until the tomatoes are tiny bits.
Instructions for a parent:
Prepare a blender, food processor or a bullet.

Peel garlic glove.

Grate Parmesan.
Serving suggestions
Use it as a sauce for pasta or rice. Add some mozzarella or mix some soft goats cheese & either add it to pasta or spread the mix on a piece of bread. A great accompaniment to a picnic basket as pesto can be used as a dip for any raw veggies, a topping on a loaf of bread or a sauce for a cold pasta salad. If you are preparing a BBQ, you can grill a few slices of bread & top it with pesto for your own version of bruschetta. If feeling creative, grill a few slices of halloumi & top it with pesto. P.S. lots of kids actually like halloumi because it is a bit chewy & lack any overpowering smell or taste.