One of the most frequent question parents hear is "can I have a snack?". Sometimes it gets asked so many times a day, it's difficult to have so many snacks prepared, not to mention healthy options. I mean.. how many times a day can I offer an apple to my kid? We always have to come up with ideas and stock the cupboards. 
Fortunately, we have Oksana from Nutrition Right sharing her recipes! You will end up not only with a snack but also a screen-free activity, yeah!
A WORD FROM OKSANA
Kids love snacking and "gouter" is their adored treat time. So, if you live in the French-speaking part of Switzerland, you will know that the afternoon gouter is firmly installed into a daily routine of children. It is a good moment in the day to have a break and enjoy something small and yummy (for both kids & adults). Usually, the snack choices are sweet, like biscuits, fruits, small baked goods like madeleines, etc. But why not using the gouter as a chance to eat healthy foods?
Here are the simple and nutritious snack ideas to make gouter a healthier!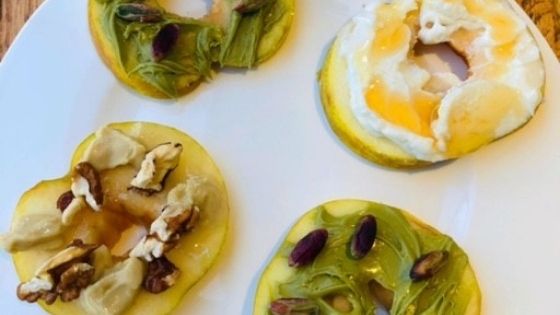 APPLE SLICES SURPRISE
The first recipe, Apples Slices Surprise, is a super fun one as kids get to choose the topping for their apple slice. Firstly, you cut an apple, take the core out and slice it into rings. Then, layout different kinds of nut butter such as peanut, pistachio, almond. Add a selection of nuts and dried fruits like raisins, cranberries; cream cheese or honey. Then, let your kids decide what they want to put on top of the apple slice. 
CHOCOLATE SUPER BALLS
This recipe is an amazing time-saver, since the balls can be kept in the fridge for up to 5 days! In fact, they even taste much better after being in the fridge for a while as they get cold and firm. Chocolate Super Balls are simply a kids-friendly version of the power balls, much loved by many adults as a quick highly nutritious snack.
Ingredients:
Makes abt 16 balls
1/3 cup raisins
1/3 cup oats
1/3 cup walnuts
1/3 shredded dried coconut
1/3 cup sunflower seeds
7 dates, pitted
¼ cup of coconut oil
2tbsp dark unsweetened chocolate powder
Pinch of salt
Instructions:
1. (child) Put all the ingredients, except for the sunflower seeds, in a blender.
2. (adult) Blend.
3. (child) Using a big spoon transfer the mixture from the blender into a bowl.
4. (child) Add sunflower seeds & mix very well using your hands. The mixture should be sticky but also a bit crumbly.
5. (child) Take abt 1 tbsp of the mix & roll it in the hands to make a ball. Once all the balls are rolled, put them in a plastic container with a cover put in the fridge.
Get inspired by a selection of healthy easy recipes for the whole family prepared by Oksana Petersen @ Nutrition·Right, Geneva. Visit Oksana's blog over at Nutrition Right!