Accrobranche (aka tree top adventures) is a great activity for kids and whole families. Depending on the age (or the height) of your child different options are available.
How does it work?
First you (or your child) gets into a special harness that will keep them safely attached to the trail. Then they can enjoy the trail up above the ground filled with zip lines and obstacles. Depending on the parc and the age of your child the trails are on different heights. It really is safe, so nothing to be afraid of, except if you're like me and the idea of being anywhere above the ground scares the life out of you.
Some parcs with children trails only allow kids to enjoy it with an accompanying adult beside them. For me, that's a no go, but fortunately I learnt that it's worth calling the place before hand and reserve the staff member to accompany my daughter. In many parcs kids 6+ (or taller than X) can enjoy even more trails – with an accompanying adult.
There are also 2 parc in the area with treetop fun without obstacle trails, but with giant trampolines!
They are all listed below. Choose a place and go!
This is the only parc located in Geneva – in the great parc of Evaux (Onex). There are two trails for kids aged 3-6, and one other for 4-6 year olds. They are low enough to let you accompany your child from the ground, standing next to them and helping out if needed. It's really perfect for the tree top initiation! Four more are availble to those after 6th birthday with an accompanying adult, or alone if they're at least 7 years old. There are even more optopns for those ge 10+.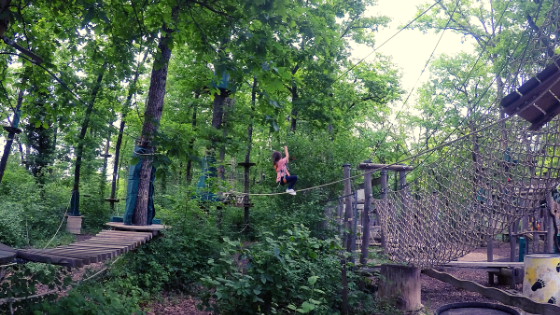 Here you can choose between 16 courses! 5 of them are destined for kids aged 4-7, all equipped with zip lines. These trails are higher above the ground than in Geneva, but kids can go alone no problem. When in trouble, just call the staff and they will help or even climb up if needed!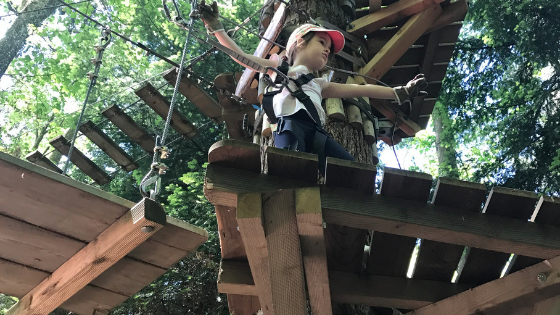 Juraventure is more than just a tree top parc. There's mini golf, paintball, and donkeys, but for the sake of this list I'll focus only on accrobranche. According to their website, the « The Kids, juniors and adult courses are unlimited! ». The parc is designed in a way that all too difficult steps can be avoided to enjoy the rest of the course. For the Mini trail the minimum height is 100 cm, and for the junior trail it's 120 cm. I wrote about other activities on La Faucille in summer here.
Forestland in Divonne is another place that offers not only Accrobranche but much more. Yet again, in this list I will focus on accrobranche only. There are 6 courses in Forestland: one for 3+ (max heigh 120 cm), two for 7+ (min height 120 cm), and three more for those taller than 140 cm. A great excuse to visit Divonne with kids!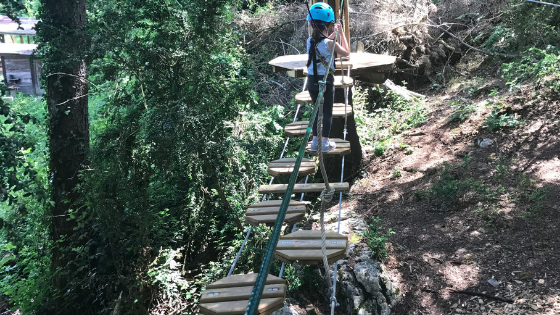 Other accrobranche parcs to try:
Accro'Aventures in Reigner (France): for kids as small as 1m  but kids younger than 5 and below 11cm of height needs a parent to accompany them up in the trees.
Parcours Aventure in Sciez (France): min age is 5 here, and minimum height 110cm, adult must climb too.
TRAMPOLINE PARCS
In the tree-top trampoline parcs  (fr. parcabout) you'll need no harrness , and will not be challenged by obstacles. Instead, you'll enjoy something that I would describe as a walk (or jumping) on the clouds! It's absolutely marvelous, fun, amusing, relaxing, and extraordinary!
Two principal places to enjoy this activity are:
Filenvol (close to Saleve), no minimum age. Kids under 5 can enjoy a separate section. All kids can go to the main one with an accompanying adult. As of the age of  8 they can enjoy the place on their own. No sandals, bear feet allowed.
Gaia Loisirs (in the French Jura). I found no information about minimum age, but it is strictly advised to wear long trousers, and long-sleeve tops, as well as full shoes (no sandals).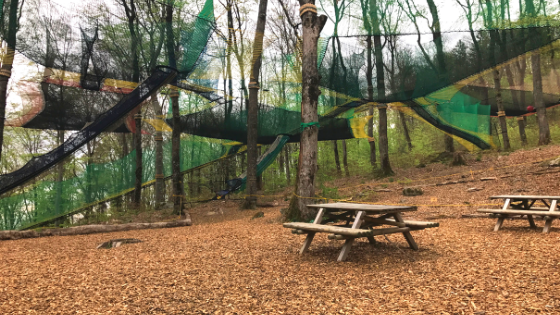 Will you try a tree adventure? Which one?