Exploracentre is a fab place close to Plainpalais (I wrote about them before, click here).
It's a really fun place with interactive exhibitions, workshops, and soon a Wednesday ExploraClub.
Now, before we go any further. Exploracentre lowered the tickets price. It's now 10 CHF per person, much more affordable – and as you're about to find out, the new expo is also much better than the first one!
FABRIQ'EXPO
The brand new expo of Exploracentre, Fabriq'Expo, unites science and technology, resulting in a mix of a laboratory and DIY space.
When you enter, you'll instantly see a giant black circle thingy (that I forgot the name for). It's a bowl shape thing with a hole in a centre. Your job here is to throw in some wooden marbles and see how their speed changes depending on how far they are from the hole. It's simply a recreation of a solar system, marbles being the planets, and the hole representing the sun. It's hypnotizing!
MODULES
The whole expo is made of several modules – working stations. Each one has a different theme, for example:
Chain reaction (super playful),
Robotics,
Objects under the magnifying glass (repair, assemble, disassemble, and design your own!),
Engineers in question (this stand works against discrimination in the world of science),
Design (imagine, draw, invent)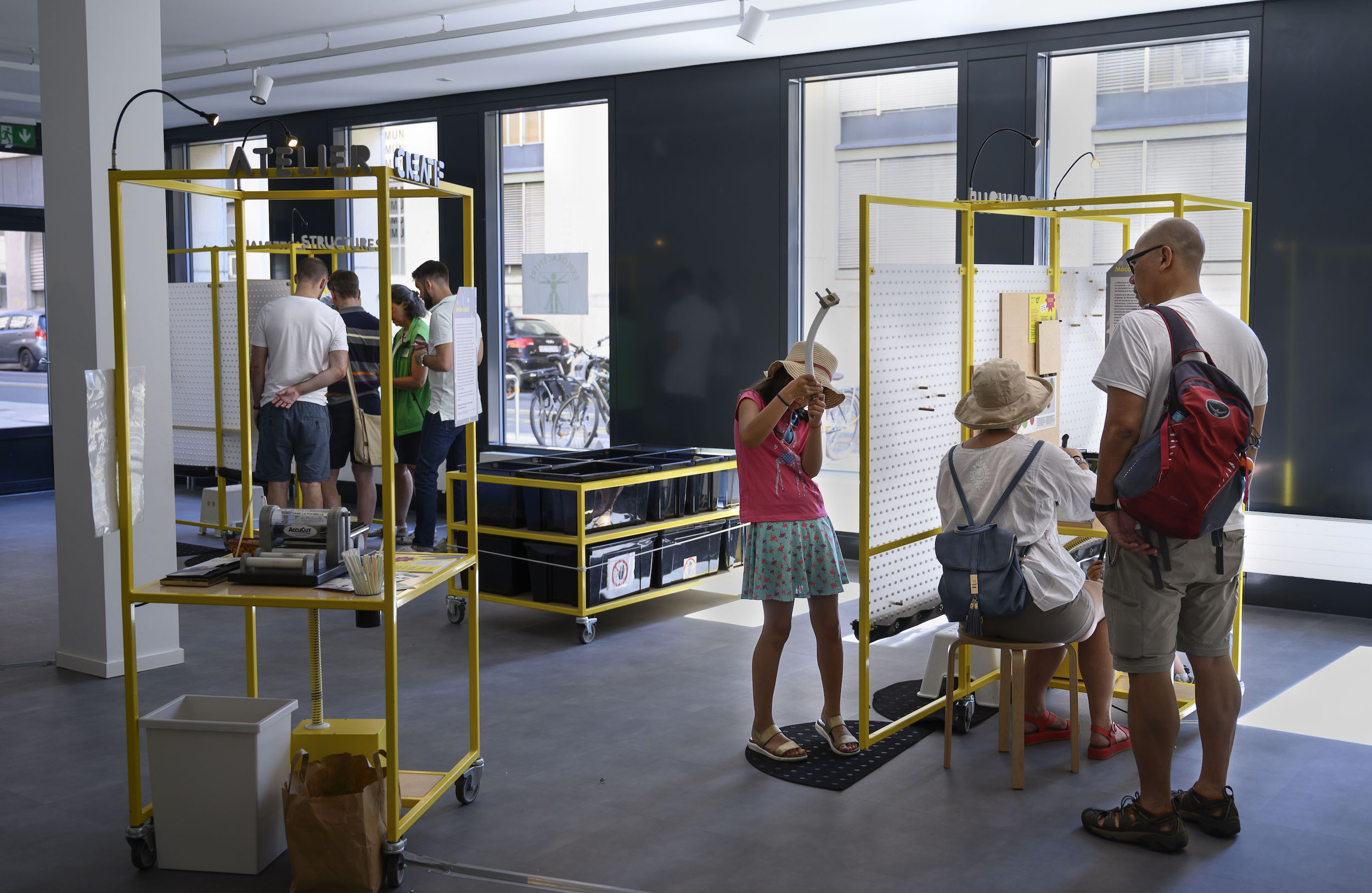 TECH EVOLUTION
Has your child ever seen a cassette? Or the old-school computer disk? One of the stands offers children to meet these bizarre objects and figure out their purpose. On the other side there are models of the telephones from different times. Kids can try and use an old phone with a ring-dial to see, how in the past, ringing someone ment using a ring dial, not only causing the phone to make the ringing sound. They can also match the phones with wallpaper designs from different decades.
SHOP
Exploracentre also opened a gift shop with a vast variety of science-themed toys. Be sure to check it out!
It's a really fun and highly interactive (in an almost screen-free way) play area! It is designed in a way to also make the parents into a playful mood! #parentvillerecommended
USEFUL INFO
Exploracentre (website)
Rue des Bains 33
1205 Geneva
Accessible with prams and wheelchairs (including an adapted toilet). Changing table in the restroom.
In summer open from Monday to Saturday from 10 am till 6 pm.
Entry: 10 CHF (free for kids under 3)