The first thing you need to know before reading this article is that I worked for Spell Languages for a year in the past and witnessed how amazing this school is no matter which teacher takes the class, no matter what age kids are, and no matter which language they are learning.
ABOUT SPONSORED ARTICLES
So yes, this is a sponsored article, one of those that pay my bills, but as always on Parentville, even a paid article appears here only because I believe the service or the product is worth sharing with you. As a result, every month, I turn down several paid collaborations. Either the brand does not meet my values, or I don't think it will be useful for you.
Back to the topic.
Back in the past, I thought the one thing that was missing at Spell was the parent-child classes. But what I had in mind were lessons for kids. The idea could have not been realized back then. Now that Kasia, the founder of Spell Languages, is a fresh mom, she understood my idea and, as usual with her, took it to another level!
As a result, Spell now offers French classes for adults with kids!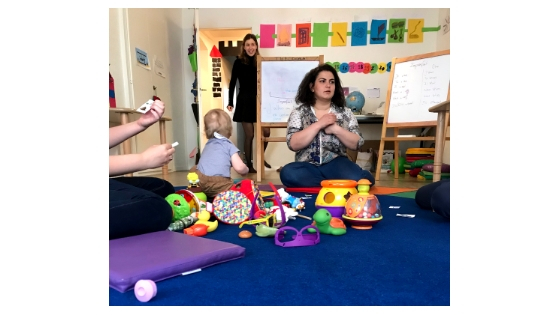 MOMS WITH KIDS
Let me explain. You take your baby or your toddler, and without needing to find a creche, a nanny, or booking the grandma, you can go and learn French!
I participated in one of these classes the other day. It was wonderful! All adults and kids sitting on a colourful flow, pillows available, toys and children's books in the middle. The teacher started revising passé composé and l'imparfait (blah), the moment she would see kids needing more attention she would switch to a kid-friendly activity – a song. Not any song though, but one that would be fun for kids, and bring new vocab to parents. A perfect mix!
Parents will also learn to read, acquire new vocab through children's' books that they will be asked to read to their children.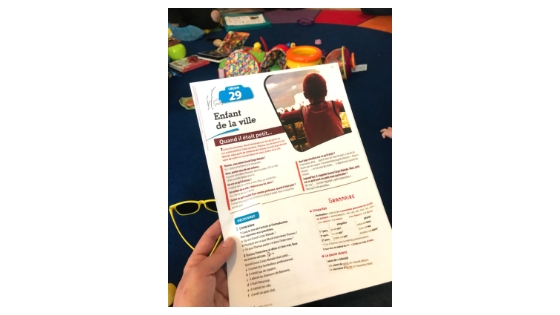 It is just fantastic! I remember advising some of my friends to start learning French via simple kiddy songs and books. They're simple yet rich in new words, and you can find a children's book probably for all grammar problems!
This is how the lessons go. Moms are learning, kids playing, walking/crawling around the room, bubbling with one another. Worksheets are involved, and occasionally some voluntary homework.
The end of the lesson takes the form of a casual conversation.
FLEXIBILITY IS KEY
There is one more important thing for moms/dads/nannies in this course. Lessons happen three times a week, but it is totally up to you how often you will come. You purchase a "pass" that will be valid for a certain amount of time (a month – 110 CHF, a trimester – 320 CHF, a semester – 420 CHF) and within that time you come to as many lessons as you'd like! You can join once a week for a while, then come three times a week, then change again. Alternatively, you can purchase 1 lesson at a time (for 25 CHF).
It takes so much stress away! You are not obliged to come, and will not lose the money if your baby was up all night and you can barely think in your native tongue, not to mention a foreign one. Your toddler gets sick; it's still ok – stay in, take care of yourself and your kids and come back when you're all in good shape again!
Current groups work up from the intermediate levels, but a beginner's French group will start soon as well.
THE STAFF
The staff is gentle, helpful, used to working with small munchkins so they will never be disturbed with a child crying, singing, or making a mess. They will even assure your kid is safe and sound while it's your turn to solve a grammar exercise.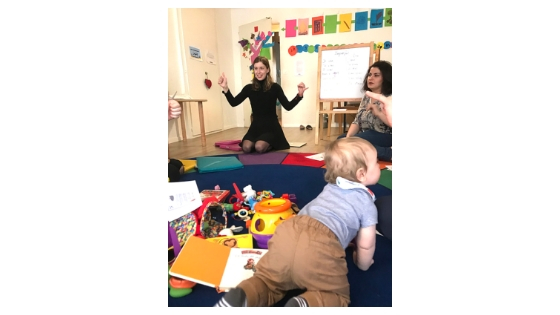 LOCATION
The Spell Language centre is located in Geneva Old Town, at the Place de Bourg de Four. It is an old building without a lift or a place to leave the prams downstairs, but do not worry! A smiling Spell employee will come down to you and take your pram up and then down again. No hustle.
This is how it is at Spell: smiles, help, flexibility, and a solution to every problem small and big.
I wholeheartedly urge you to try these classes and be better prepared for when your child starts school or any form of a French-speaking social life. That is not even to be able to talk to the teachers and other parents but to avoid not understanding your kids talking about you their friends… (they will turn into teenagers sooner than you expect).  😉