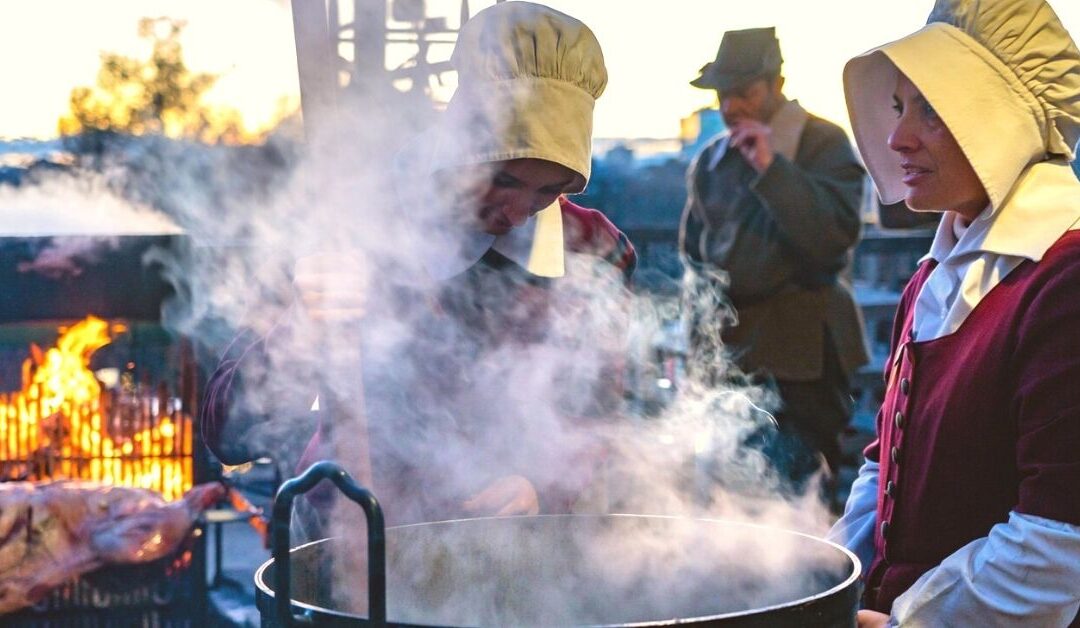 In this article, you'll learn why in Geneva, it is more important to have a costume ready in December than in October, why you can expect people to knock on your door and sing in a strange language, and how a chocolate cauldron is connected to the most important battle in Geneva's history.
Ready? Let's do it!
L'Escalade is a cantonal holiday, that is celebrated way more than any other national or cantonal holiday. It also lasts more than one day! Escalade starts with a weekend of runs (or a series of races of different difficulty levels, even kids can run!). It is continued up till the middle of the month with many different celebrations. On this occasion you can visit places closed the rest of the year, see a parade, and more.
What does "L'Escalade" mean?
It means climbing.
Why do we celebrate climbing?
Not to honour all those strong, courageous folks who climb nearby mountains, nope. We celebrate the fact that on the night between 11th and 12th December 1602, the furious Savoyards people didn't manage to successfully climb the Geneva walls and conquer the city.
Who were they again?
The Savoyards, led by Charles Emmanuel I. Encouraged by the pope, the catholic Savoy wanted to conquer the protestant Geneva. Psst: It's those living across the French border, but please don't hold the grudge.
When do we celebrate?
The celebrations start on December 3 & 4 with the Escalade run (followed by a candlelight parade in the evening). From 9 to 11 December, in the Old Town of Geneva, volunteer actors from the historical reconstruction group "La Compagnie 1602" will perform scenes from the daily life of Geneva at the end of the 16th century. It all ends with the traditional Escalade parade (approx. 800 volunteers on horse and foot). Visit this website for more details.
KIDS
Escalade is not a work-free holiday. Everybody goes to work and kids go to school (or creche). But they will not have lessons. They come dressed up by whoever they want, they will play games, sing the Escalade song, smash chocolate marmites and even eat the vegetable soup! In the virus-free era, parents were invited to schools and nurseries for bigger celebrations, let's hope this tradition will come back.
Anyway, have a costume ready for your kids – the school will announce on which day they will celebrate Escalade.
A marathon again?
No, just 7.3 km running up and down around Geneva and its old town. There are several options of the course's length, including those for kids. Check it all here.
FOOD
Traditional Escalade food is a vegetable soup (download the recipe here)! It's very simple, from the old days but it comes with a traditional escalade desert – a chocolate marmite with marzipan veggies, but don't just bite on it. It needs to be smashed in a particular way.
MARMITE
The legend has it that the Mere Royaume (wife of Pierre Royuame and mother to 14, bless her), was cooking late at night when she saw the troops approaching the La Monnaie gate, where the family lived. She had opened the window and poured the boiling soup on the attackers, and then also threw the heavy cauldron (fr. marmite) their way. This woke everybody up, so thanks to her Geneva was saved.
To commemorate this story, somewhere at the end of the XIX century Geneva started making chocolate cauldrons filled with marzipan veggies.
You can buy chocolate marmite only around Escalade dates (from November till December). The only way to have it during other months is to book Chocolate Flavor Tour.
Here's how you eat this desert. It need to be smashed by the youngest and the oldest person in the room holidng their hands. While destroying the couldron they need to say: "Ainsi périrent les ennemis de la République!" (Eng. Thus perished the enemies of the Republic!).
Any songs?
Yes! « Ah! La Belle Escalade » – a song about furious Savoyards that may explain the common reluctance towards the frontaliers, though… those from Ain were not involved, so maybe the roots of this border conflict comes from elsewhere.
There is another song for Escalade: "Cé qu'è lainô" (meaning "He who is above"), and that is not any song but the Geneva anthem that also tells the story of Escalade.
Don't be surprised if someone rings your door on the Escalade day and asks for candy after singing one of these songs. It is a mixture of Halloween and carols choirs (not very common nowawadays).
Dress up?
Why? I have no idea, I have been trying to find the explanation for this Escalade tradition, but couldn't find anything specific. Maybe you could help me out? Anyway, if you like costumes, you have one more occasion to dress up however you want. And prepare your kids for Escalade celebrations at school, when everyone (including the teachers) comes wearing costumes (from princesses, HP characters to self made costumes like UNO cards or poop emoji).