What do you get when a French-Canadian opera singer lands in Geneva? (No, it's not one of those jokes!) Quick answer: an expat-oriented, 100% online professional French language school. In other words: Prêt à Parler.
FYI: yes, your feeling is right – this is a sponsored article . But, as always, it is about a company/product I know, tested, and trust.
You know the story: you arrive as an expat in Geneva on a "short contract" only to realise 10 years later that you're still here and still don't really speak French well enough, especially when it comes to all those online forms, doing your taxes and even applying for a Swiss Passport. Add to that the stress of finding the time to get out of the house the same time each week to attend a French-language class, and of course getting through the notorious Geneva traffic, hunting for parking or navigating TPG. All while balancing the laundry, groceries, a job and a kid or kids at home. 
This is where Prêt à Parler comes in. My husband, P, has been using it and it has been brilliant. He can go about his day, work, child-care – you name it – and once a week he simply logs in for one-hour of French lessons. On the other side of the screen is one of the 'Super Profs' as they call them, waiting to start a lesson that will feel more like a conversation than schoolwork, where grammar finds its way in without you even realising it.
But hey, didn't you say there was an opera singer? What's that got to do with teaching French?
Ah, oui! The opera singer in question is Isabelle Nicolas-Johnson, the founder of Prêt à Parler. Her opera background has helped her become an expert in articulation and pronunciation, as she attended many diction classes (French, English, Italian, and German) as part of her studies. 
Over the years, she has developed special French pronunciation tips – and I don't know about you, but this is where my husband and I struggle the most, especially with that French 'r'.
About Prêt à Parler
Prêt à Parler brought digital education to Geneva way before COVID-19 forced everyone to move online. Isabelle launched her online programs back in 2017 when the word "corona" was only associated with a bottle of cold beer. (Don't you miss those days?) Before she knew it, she was training a team of top bilingual teachers as well as her communication and IT support experts. 
Prêt à Parler is a local expert in online French courses. It offers one-on-one classes, webinars, and preparatory courses for the FIDE exam (soon-to-be obligatory for those applying for a Swiss C permit, or a Swiss passport). They also developed their own learning platform called French for Everyday Life and share a ton of tips and mini-lessons on YouTube, Facebook and Instagram (handy for someone like me who spends a lot of time on those sites!), so you can give the idea of an online French class a try.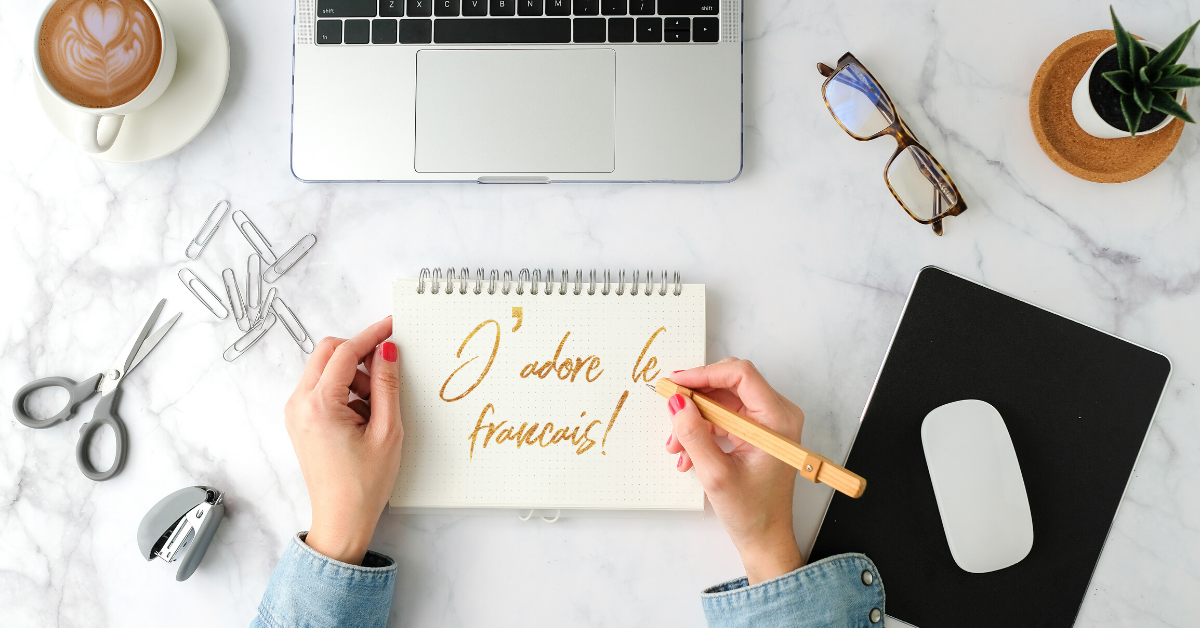 Benefit 1: Personalisation
Isabelle always knew that a one-size-fits-all approach would not work in education. We all have different styles of learning, interests, and reasons to learn a new language. Each course is personalised and adapted to your needs (meaning no two classes are the same!) 
Need helping writing a formal letter? They will turn it into a class. Didn't understand the programme you watched yesterday? They can turn it into a listening exercise. You basically get to turn REAL life into a useful learning exercise.
Benefit 2: The teachers
All Prêt à Parler teachers have been carefully selected for their professional, technological and personal skills. Plus, they know everything there is to know about that (in)famous FIDE exam.
After a trial lesson (super helpful), my husband was certain he had finally found a program matching his needs. He scheduled his lessons at 9 pm. Yes, you read that right, 9 in the evening. What!? How!? Well, it turns out his teacher, Sandra, is a native French-speaker who currently lives in New Zealand. 9 pm here – 9 am there. That is the beauty of online training programs – both the teacher and the student can be anywhere in the world.
Benefit 3: Comfort and flexibility
We are all different, with different lives, and different chaos (aka work-life balance), yet many language schools are set up as such so that you have to adapt to their schedule. Prêt à Parler offers a flexible solution (side note, it's also great for introverts like me who don't love the idea of group classes with strangers each week!)
My husband's lessons each last 1 hour. Not 1 hour plus 40 minutes commute each way. Not 1 hour plus anything. There is no stress about traffic jams, the bus being late, or finding a parking spot. Not only does he have his lessons tailored to his specific needs, but improving his French doesn't interfere with his work-life or his family life. 
When it comes to scheduling your lessons, it can be late at night, early in the morning, or even on a Sunday. Your private classes can be rescheduled if needed within 24h. It means that no last-minute business trip, your child getting sick or vacation will be an obstacle in boosting your French! That is, as long as you have an Internet connection, of course. 
And this is all possible thanks to an opera singer from Quebec who moved to Geneva. After all, who better to understand and cater to expats than a fellow expat? 
* This article is a result of a paid collaboration between Parentville and Prêt à Parler.