Ferme la Gavotte is one of the most popular places among families in Geneva. It's a petting farm with sheep, goats, poneys, rabbits, and more (more about it here). They also offer money rides on Wednesdays and on weekends. And guess what? It is very close to the river  L'Aire, making it a perfect starting point for this walk!
(Oops! Restrictions due to the Virus-That-Must-Not-Be-Names can force La Gavotte to close at times. Check their website before planning your trip).
Thanks to the numerous arrangements made by the canton, the surroundings of the Aïre (or L'Aire) allow this peaceful pleasure to as many people as possible. The Promenade de L'Aire is accessible for prams and wheelchairs. The short bits in the woods may be doable with all-terrain prams but not with a wheelchair.
The path allows you to go as far as Saint Julien en Genevois! Or you can make a full loop (around 2h30) through Signal de Bernex and Onex vineyards.  There are many picnic areas and large benches all along the way, so don't forget your snacks!
two ways to begin
You can park at Centre Sportif des Cherpines (very close to La Gavotte). For 100% pram & wheelchair friendly way go through La Gavotte, to Chemin des Verjus, turn left to Route de la Galaise, through the Pont des Marais to the Promenade de l'Aire. 
For a bit of wilderness, feel start differently. From Cherpines go left on to the Chemin du Pont-du-Centenaire and follow it until you reach Chemin des Marais. From now on follow the river to reach the Promenade de l'Aire. You may encounter a super cool swing made of brunches and a robust rope – this fun place may make your shoes wet, but it's so worth it!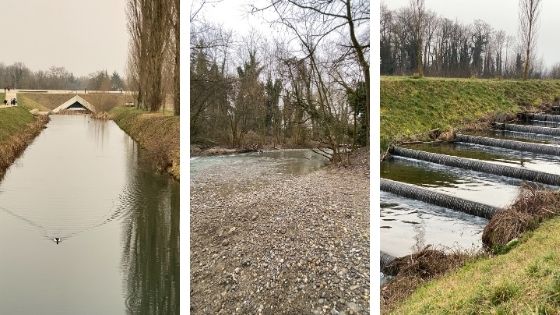 ARCHITECTURE
It is a perfect place for prams, scooters, and bikes. It's also a perfect place to walk on dry land when all forests are wet and muddy due to days-long rain. But we most loved it for combining urban architectural delights with nature. There is a gigantic pergola offering shade during the warm months, a beautiful bridge with a sharp triangle, and schody rzeka jakby wodospady?
GAVOTTE – THE BEST TREAT
you can visit Gavotte at the beginning of your Aire adventure or at the end. Bear in mind, kids get stuck there for a long time. The visit to this farm can be used as a reward for a long walk (for those kids who need it). I guarantee that cuddling with a poney is a better reward than any cookie!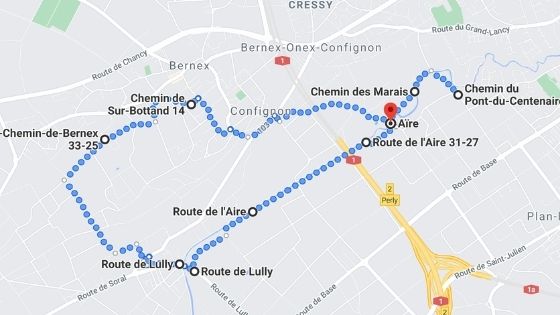 practical INFO:
Accessibble with TPG: from Route de Chancy and Route de Base.
Parking: blue zone (3h) at the Centre Sportive de Charpines.
Duration of the walk: 2h30 for the whole loop but feel free to shorten it according to your preference.