Oksana is back on Parentville with her lovely recipes. Her idea is to provide you with easy, healthy and yummy recipes to prepare with kids. Enjoy!
Summertime is berries time! Whether you purchase them in a supermarket, at a farmer's market or go pick them yourself – they are the summer fruit to be eaten without limits! If you want to pick berries at the farm yourself, check out this article on Parentville. (check them out here).
The variety of desserts using fresh strawberries & raspberries is endless, from baked muffins to raw cheesecakes. On a hot summer day, however, a light & cold dessert is a real treat. Why not try these super simple, no-baking-involved delicacies: Strawberry Frozen Yogurt Bark & Raspberry Cranachan.
These desserts will delight the whole family using fresh local ingredients, especially as the Raspberry Cranachan can easily be turned into grown-ups only treat.
STRAWBERRY FROZEN YOGURT BARK
This is a very easy recipe that contains only two ingredients: yoghurt & berries. The result is a healthy frozen snack that is so refreshing on hot days & is excellent for sharing.
Firstly, choose your favourite yoghurt, be it Greek, lactose-free, non-dairy or flavoured like vanilla, or even chocolate.
The best berries to use are strawberries or raspberries. If using raspberries, just add the whole berries. The strawberries, however, need to be chopped & added to the yoghurt. For the fussy eaters who don't like the bits of berries, blend the yoghurt with berries for a creamy smooth texture that actually looks like strawberry white chocolate!
INSTRUCTIONS:
Step 1 (parent).
Line a flat dish with sides with parchment paper and spread evenly with a layer of yoghurt. Make sure the layer isn't too thin as it breaks easily. Chop the strawberries.
Step 2 (child).
Add the chopped strawberries. Nuts can add an extra crunch. 
Step 3 (parent).
Put the dish into the freezer until the mixture is frozen. Freeze for a few hours until completely frozen. Ours took about 4 hours for an 8″ square pan, but of course, it will depend on the size of your pan. Remove the frozen yoghurt from the pan and peel off the parchment paper. Break into pieces.
Step 4 (child).
Peel the bark off the parchment paper & break it into pieces. Enjoy!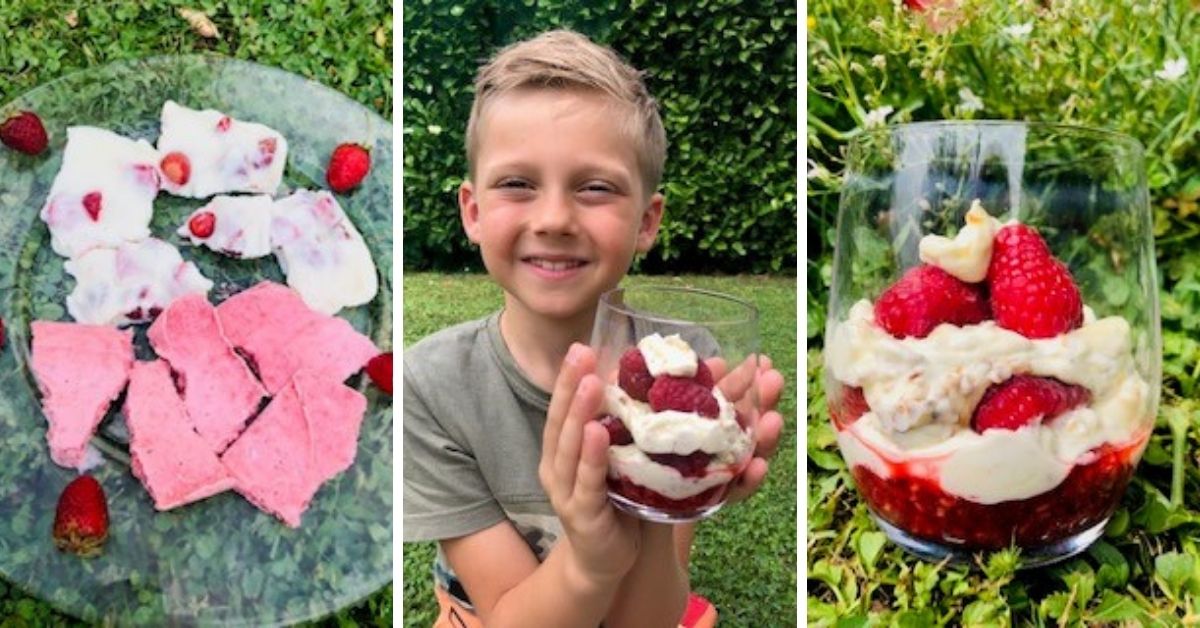 RASPBERRY CRANACHAN
This is actually a traditional Scottish dessert of fresh raspberries folded into cream mixed with honey & oats. It is sure to be a hit with the little ones and adults, especially in the traditional recipe. A splash of whisky is added to the cream, perfect for a nightcap.
It keeps well in the fridge for one day & is really a satisfying snack or a dessert.
Ingredients for 4 servings
2 tbsp medium oats (or gluten-free oats)
300g fresh raspberries
350 g double cream like Gruyere
2tbsp runny honey
4 small glasses to serve
INSTRUCTIONS:
Step 1 (adult)
Add oats into a small pan & cook on medium heat for about 4 minutes, stirring to make sure the oats don't turn too brown & burn. Set aside to cool.
Step 2 (adult)
Prepare the electric mixer for whipping the cream
Step 3 (child & parent)
Whip the cream until it just set. Add honey& oats & stir well.
Step 4 (child)
Take half off the raspberries & mash them using the folk.
Step 5 (child & parent)
Fill each serving glass with mashed raspberries, followed by cream & topped with fresh raspberries.
Find more inspirational easy healthy recipes selected by Oksana Petersen head over to Nutrition Right.