How about a stroll through the forest, by the river, with a vineyards finish line? Thanks to a friend, we discovered this 8km loop.
This walk starts in Choully and finishes in Choully – a perfect loop with changing scenery and adventurous passages.
It's not pram friendly and risky with a baby in a carrier due to 2-3 places where streams need to be crossed by walking on fallen trees and rocks. Also, I am not sure how it is with your child, but Z needs a friend for such a long walk. I can do 5-6k with her alone, no problem, but a longer walk without whining is possible only with one of her besties.
READY, SET, GO!
It all starts in the village of Choully (close to Satigny). After walking a bit towards Allondon river, you enter the forest and follow the path along the river. It can be extremely muddy after rainy days, but shoes can be washed, right? There are 2-3 places that demand a few acrobatic skills and add an adventurous factor to the outing. Each time you get to this kind of crossing (over a stream or a small gorge) and it looks too difficult to do, search for another crossing closeby. There are other options closeby for sure!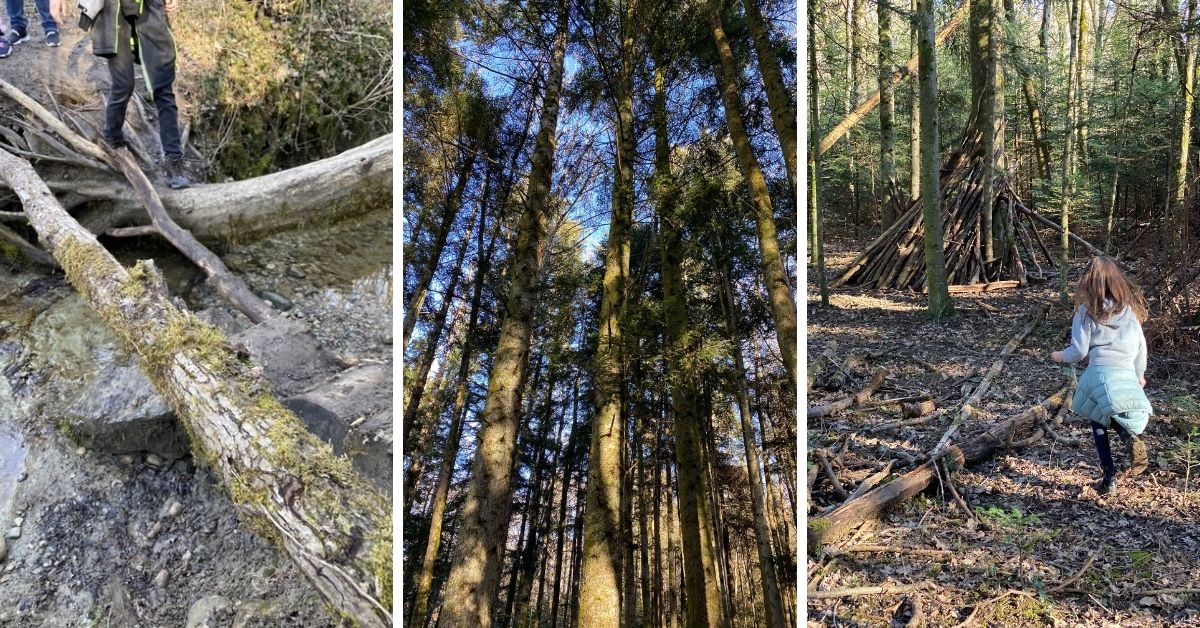 A CAMPSITE & A FOREST
After an hour or so you'll get to a side of a campsite and reach the road. Follow the road uphill and turn right to the bigger road (careful – cars can come fast here). Within minutes you'll see a path entering the forest again on your left. Don't hesitate to play in huts built with branches by many families. You'll spot many along the way.
Option: you can continue down this toad and you'll reach Centre Pro Natura (cool outdoors play park for kids and the Restaurant La Grange).
You're again on a forest path. It's a fun walk because this second part leads through a forest that looks very different to the first one (and there is no river). Continue till you're out of the forest and in the vineyards. You should have another small campsite on your left. From here take any path direction Choully (you're around 40 mins from the village).
THE VINEYARDS
You should have another small campsite on your left. From here, take any path direction Choully (you're around 40 mins from the village). Of course, the vineyards are at their prettiest in spring, summer, and autumn, but the area is lovely even in winter. On a nice day, you'll get to see the Mont Blanc massive on your right and the Jura mountains on your left.
There's a picnic site called Montagne des Chèvres next to the water tower in Choully. You can also find public toilets nearby. The only thing I couldn't find was a water fountain to refill our bottles – one would think there should be on near the water tower (if you find it, please let me know).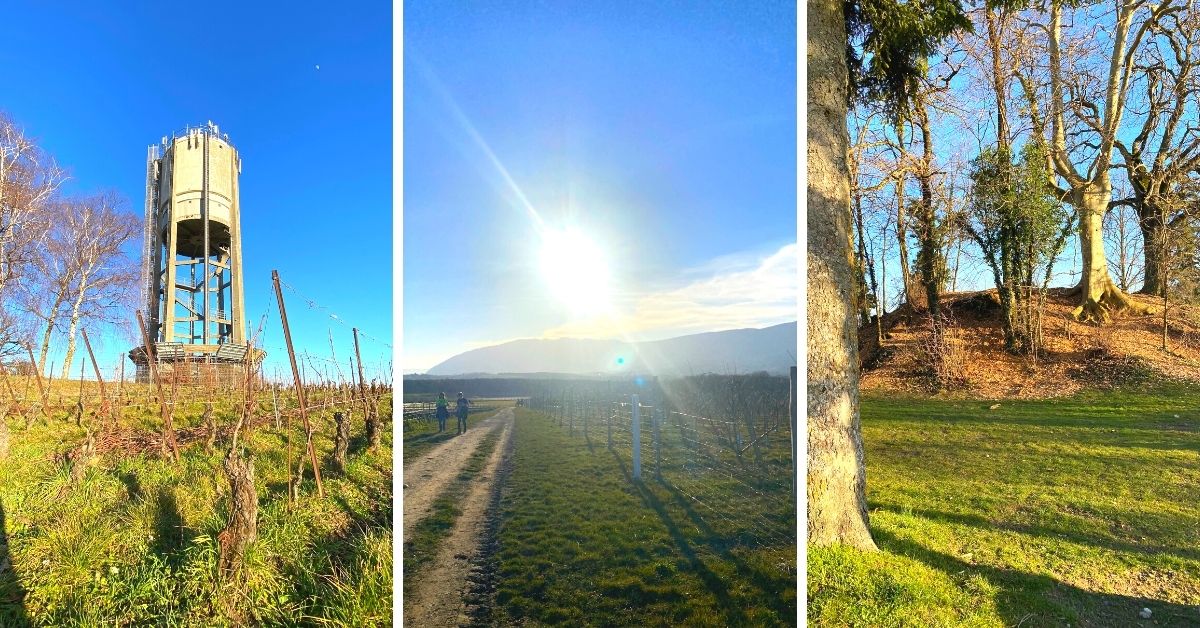 One last thing! That water tower (glamorously called Chateau d'Eau)About the water tower shall soon be replaced by a wooden observational tower accessible to the public. Oh, the view it will offer!!!
THE MAP
I prepared a map for this walk via Google maps. Sadly the paths by the river are not shown, but as long as you head in the right direction you should be fine. Also, the coverage is quite good even in the forest, so don't hesitate to open any maps app to help you out if you feel lost. Click on the map to see more details.